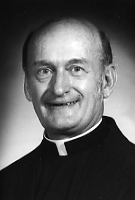 Father Edward R. Arnold, MM
Born: May 10, 1931
Ordained: June 8, 1963
Died: March 25, 2002
Father Edward Robert Arnold died on Monday evening, March 25, 2002 at Phelps Memorial Hospital, Sleepy Hollow, New York. He was 70 years old and a Maryknoll priest for 38 years.
Edward was born on May 10, 1931 in Brooklyn, New York to Edward and Frances Kubat Arnold. He had one sister, Lillian, who died in 1998. He attended Resurrection Grammar School, St. Augustine High School, and Manhattan College, where he earned a B.E.E. After working for three years, he entered Maryknoll Junior Seminary (Venard), Clarks Summit, Pennsylvania in June 1956. During his years in formation and preparation for mission he wrote about his concern for vocations to mission. He went on to say – "We all need to encourage vocations to mission and Maryknoll. Most important is prayer for vocations. Second is the spirit, which Maryknoll possesses. This can only be preserved by each one of its members. I'm sure if we preserve this spirit which is a love of God and fellow men, God will bless our Society with many more vocations."
Father Arnold was ordained on June 8, 1963 and assigned to Peru. After language study at Cochabamba Language School, Bolivia, he was appointed to the Juli Prelature in the Peruvian Altiplano where he served as pastor of Assumption Parish in Yunguyo, Peru from 1965 until 1975 and in pastoral ministry from 1975 until 1986.
In early 1987, Father Arnold returned to the United States to care for his mother and was officially assigned to the United States Region as of January 1988. During this time of care for his mother he did pastoral work in the Diocese of Brooklyn at St. Columba's Parish. The parish and Diocese appreciated his missionary spirit and help.
At the time of his formal assignment to the United States Region on January 1, 1988 the Superior General, Father Boteler wrote – "In the name of so many Maryknollers, Ed, I want to express a most sincere thank you for the contribution you have made to Maryknoll and mission. You and I shared many happy moments in LaPaz, Bolivia and I was always curious to hear the latest from the difficult Altiplano apostolate where you worked for so many years."
On August 1, 2001 Father Arnold was assigned to the Retirement Community with residence at St. Teresa's where he remained until the time of his death.
Father Arnold was known to be a great storyteller. This gift was shared in the missions among the other Maryknollers and with his family. He was also a piano player, and he could play many of the songs from his Brooklyn neighborhood. Father Arnold comes from a large extended family. His mother was one of ten children. He was close to his family and was grateful for the years he spent near them when he was here in New York. Father Arnold shared with a Maryknoller one time that when they have a family reunion nearly 500 members attend.
Wake services were held at 4:30 p.m. on April 1, 2002 at St. Teresa's with Father Thomas P. McDonnell officiating, and at 7:30 p.m. in Queen of Apostles Chapel at Maryknoll Center where Father William D. McCarthy officiated and Brother John Blazo read the biography. Mass of Christian Burial was concelebrated in Queen of Apostles Chapel on April 2, 2002 at 11:00 a.m. Father John Hudert was Principal Celebrant and homilist.  Burial followed in Maryknoll Society Cemetery with Father Jeremiah R. Burr conducting the graveside service.