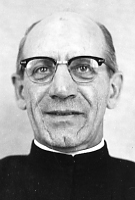 Father Edward R. Barron, MM
Born: November 30, 1900
Ordained: June 19, 1927
Died: December 4, 1965
Edward R. Barron was born in River Rouge, Michigan, on November 30, 1900. After his graduation from high school in River Rouge he spent two years at Assumption College in Ontario, Canada and then entered Maryknoll in September of 1921. He was ordained on June 19, 1927 and assigned to Honolulu. The following year he was assigned to Peng Yang, Korea where he started the mission in Anshu.
In Anshu he started from scratch and eventually built up a fine parish with church, school, convent, rectory and a dispensary. After his furlough he was assigned to Chinnampo where he worked with Fathers Leo Sweeney and Hubert Pospichal. When war broke out he was interned and finally sent back to the states on the exchange ship Gripsholm in August, 1942. He lost no time in seeking permission to join the Navy Chaplain Corps. He saw action in the Pacific and retired in 1946 with the rank of Lt. Commander.
The junior seminary had just been opened at Brookline and Father Barron was added to the staff. He was not long there when the work in Japan reopened and his request for assignment there was granted. He sailed in February, 1948. Despite his age, he entered eagerly upon the study of a new language. His first responsibility was to open the parish of Sonobe.
In January, 1957 he fell ill which forced him to return to the States for treatment. For a while he remained at Mountain View but it became necessary to give him constant nursing care. So, in September of 1960, he was transferred to the Alexian Brothers' Hospital in St. Louis. His health continued to decline. On December 4, 1965 he went to the Lord peacefully.
The funeral Mass and burial took place at Glen Ellyn on December 7th.
*Transferred to Maryknoll October, 1973