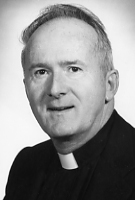 Father Edward R. Killackey, MM
Born: March 20, 1931
Ordained: June 8, 1957
Died: April 27, 2011
Father Edward R. Killackey, M.M. died on April 27, 2011 at St. Teresa's Residence. He was 80 years old and a Maryknoll priest for 53 years.
Father Eaward Robert Killackey was born on March 20, 1931, in Yonkers, New York, son of Thomas B. and Mary Gibbons Killackey. He has five brothers and one sister. An older brother, Thomas, was a deceased Maryknoll priest who served in Hawaii, as was his uncle, Father Joseph Gibbons. He attended Sacred Heart Grade School in Yonkers and, after graduating from Sacred Heart High School, entered Maryknoll in September 1948.
Father Killackey was ordained on June 8, 1957 and was assigned to the United States Region for development work in New York City. In 1960 he was assigned to the Maryknoll Mission Region in Africa where he worked in Shinyanga, Tanzania, for six years. In 1966 he was reassigned to the United States Region and to the Chestnut Hill, Massachusetts Development House. He was appointed Area Director of Development for the Eastern Region of the United States in 1967. In 1969 he was assigned back to Africa to work in Kenya, where, in 1972, he was elected First Consultor to the Regional Superior and later Second Assistant to the Regional Superior. During this period, he organized a religious education program in the Kenya Diocese of Kisii.
Father Killackey was assigned back to the United States in 1977 where he held various Society positions, particularly in the field of Justice and Peace, namely: Assistant Coordinator of the Maryknoll Justice & Peace Office in 1980; Coordinator of the Mission Education Board in 1981; and in September 1985, Director of the Justice and Peace Office at Maryknoll, New York, and Washington, DC.
While living in Columbia, Maryland, Father Killackey received a Master of Science Degree in Pastoral Counseling from Loyola College in Baltimore in 1992 and earned Certification from the National Board of Certified Gerontological Counselors. As such he served as a member of the Society's Board on Aging and Retirement and was very active nationwide with the issues of aging and retirement. He was well known throughout the United States Church and was much in demand by dioceses and religious communities for lectures and retreats.
In the fall of 2001 Father Killackey became ill and moved to St. Teresa's Residence, Maryknoll, New York. With much tenacity and good humor, he recovered and was able to move to the Society Center building. Although Father Killackey joined the Retirement Community in 2004, he kept busy with visits to men in St. Teresa's and the Center building. Among the Society membership, he was known for his quick wit and particular facility with the English language.
Wake services were held at 4:30 p.m. on Monday, May 2, 2011, at St. Teresa's and at 7:30 p.m. in Queen of Apostles Chapel at Maryknoll Center where Father Maurice J. Zerr officiated and Father Edward M. Wroblewski read the biography. Mass of Christian Burial was concelebrated in Queen of Apostles Chapel on Tuesday, May 3, 2011, at 11:00 a.m. Father Robert R. Lefebvre was Principal Celebrant and homilist. Burial followed in Maryknoll Society Cemetery with Father Thomas McDonnell conducting the graveside service.