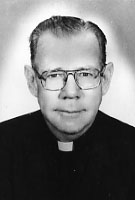 Father Edward T. Mannion, MM
Born: August 20, 1923
Ordained: June 11, 1949
Died: June 12, 1990
Father Edward Thomas Mannion died at St. Teresa's Residence on June 12, 1990. He was 66 years of age and a Maryknoll priest for 41 years.
Fr. Edward was born on August 20, 1923, in New York City, son of Patrick Mannion and Mary Murray Mannion. He had three brothers and three sisters. His early education was in New York City. He entered Maryknoll at the Venard in 1940 and was ordained on June 11, 1949. Of his vocation he wrote: "I chose the Catholic Foreign Mission Society because the work appealed to me. In my third year of high school I heard an inspiring talk by a young Maryknoll priest… I felt that as a missioner I could do much more for Christ than if I remained at home as a parish priest." His 38 years of mission service in Bolivia proved his boyhood desire to be true and fruitful.
After ordination Father was assigned to Development in St. Louis where he worked for two years. In 1951 he was assigned to Bolivia. First he was assistant pastor in Montero where he made exceptional progress in Spanish and with the passing of time became proficient in both the Indian languages of Quechua and Aymara. His superior at the time wrote "Father Mannion is developing into a very good missioner who knows the language well and has good presentation and a good voice." He gained a reputation as a preacher and good organizer, serving as pastor of the rural parishes of Cotoca, Saavedra and San Roque in Santa Cruz.
After a home furlough in 1964 he returned to Bolivia and was put on the Santa Cruz Mission Band as a roving missioner, where he did excellent work until 1968. His excellent sense of humor and language command put him in demand among the people. Next he made special studies in the Medellin Liturgical Institute in Colombia, after which he was named to the Diocesan Liturgical and Catechetical Commission and also assistant pastor in Cotoca Parish.
While home attending the Mission Renewal Program at the Center in 1977, on a trip through the Bronx, he was injured in a mugging. Between 1971 and 1978 Father Ed served as the Regional Research & Planning Coordinator for his region. He then served as Director of Caritas (distribution agency for CRS) in Santa Cruz. Since 1981 he worked as Director of the Archdiocesan Center of Social Communications for radio, press and TV, while taking care of the needs of a small community, San Rogue, in Santa Cruz. He was appointed 3rd Regional Assistant and served from 1980 to 1987.
In the Spring of 1990 Father Mannion developed some health issues and moved to St. Teresa's Residence in May. He remained cheerful but his health declined quickly. Finally, he just faded into eternity with the Lord on June 12th, the day after his 41st anniversary of ordination.
Wake services were held at St. Teresa's, conducted by Fr. Thomas McDermott, and at the Center Chapel, conducted by Fr. David I. Walsh, on the 14th. Mass of Christian Burial was the next day, with Fr. William Boteler as principal celebrant and Fr. Vincent T. Mallon as Homilist. Burial was in the Maryknoll Cemetery conducted by Fr. John Corcoran.