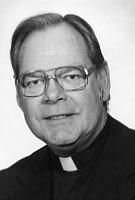 Father Elmer J. Meyer, MM
Born: November 22, 1925
Ordained: June 12, 1954
Died: September 8, 2006
Father Elmer J. Meyer died in a Cincinnati hospital on September 8, 2006. He was 80 years old and a Maryknoll priest for 52 years.
Elmer Joseph Meyer was born on November 22, 1925 in Cincinnati, Ohio, son of Edwin Frank and Loretta Young Meyer. He has four brothers. He attended St. Margaret of Cortona Grammar School in Cincinnati and Plainville High School. He began his minor seminary education at St. Gregory's Seminary in Cincinnati. During summer months he worked as a tree surgeon. He entered Maryknoll Apostolic College (Venard) on June 29, 1945. Due to overcrowding at the Venard he, with a number of his classmates, studied for Maryknoll at Loras College in Dubuque, Iowa for two years. He received a Bachelor of Arts degree in Philosophy at Maryknoll Seminary in Ossining, New York. He was ordained a priest with his classmates in the Annunciation Chapel at the Maryknoll Sisters Motherhouse in Ossining on June 12, 1954.
After ordination, Father Meyer was assigned to the Maryknoll Mission in Peru, South America, but due to a serious injury, his departure was delayed until March 13, 1955. After Spanish language and cultural studies at the Maryknoll Language School in Cochabamba, Bolivia, he was appointed Assistant Pastor of San Juan de Dios Parish in the Altiplano area of Puno, Peru, where he served in various parishes among the Quechua and Aymara Indians for six years. He also worked in St. Rose of Lima Parish and helped set up the parish of Ciudad de Dios outside Lima.
In March of 1961 Father Meyer was recalled to the United States and assigned to the Promotion Department and the Los Angeles Promotion House. On March 9, 1963 he was transferred to the Denver Promotion House. He returned to South America in September 1965, but this time he was assigned to Chile and appointed Pastor of the rural parish in Galvarino, working with the Mapuche Indians. Two year later, he was named pastor of the Parish of Curepto. In March 1969 he became Pastor of the Buzeta parish, in Santiago, San Juan de Dios, where he served for 10 years.
While home for furlough in January 1981 Father Meyer participated in the Mission Renewal Program at Maryknoll, New York, and then returned to Chile. At that time, he, and three other Maryknollers, took on a commitment in a poor part of the big parish of San Bernardo. Four years later this section became the new parish of Divino Maestro, and Father Meyer was named pastor. With the establishment of the Diocese of San Bernardo in 1988 he was appointed diocesan director of the family catechetical programs, which he organized and supervised in the 26 parishes of the diocese. He occupied that position, as well as serving on the Bishop's Council, until his retirement in January of 1994.
Before his recent return to the United States, Father Meyer was director of the Price Walsh Retirement Home in Santiago, Chile, a position he held for 7 years. At the same time he helped out in Sta. Margarita de Escocia parish in La Florida, Chile. At the time of his death, he was living near his family in Cincinnati, Ohio.
A wake was held in Cincinnati, Ohio on Sunday evening, September 10, 2006. Mass of Christian Burial was celebrated at Guardian Angels Church, Cincinnati on September 11, 2006 at 11:00 a.m. Burial followed in Gate of Heaven Cemetery.
A Memorial Service was held at Maryknoll Center, New York on September 20, 2006.