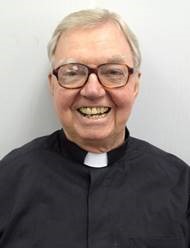 Father Elmer P. Wurth, MM
Born: September 29, 1929
Ordained: June 9, 1956
Died: October 4, 2021
Father Elmer P. Wurth died on October 4, 2021 at Mercy Health – St. Rita's Medical Center in Lima, Ohio.  He was 92 years old and a Maryknoll priest for 65 years.
Elmer Paul Wurth was born on a farm outside the small town of Kalida, Ohio in the diocese of Toledo, Ohio on the Feast of St. Michael, September 29, 1929, son of Edward and Clara Brinkman Wurth.  He grew up with two sisters, Alice and Rita, and two brothers, James and Virgil, who are all deceased.  Elmer attended St. Michael's Elementary School in Kalida, where he was taught by the Sisters of Divine Providence of Covington, Kentucky.  Upon graduation from Kalida High School in 1947, he went to the University of Notre Dame to prepare to coach and teach.  While there he learned about Maryknoll, and was attracted by the assurance that upon ordination he would be assigned to one of the Society's missions.
He entered Maryknoll in June 1948, studying in Maryknoll's seminaries in Clarks Summit, Pennsylvania; Lakewood, New Jersey; Glen Ellyn, Illinois; Bedford, Massachusetts and Maryknoll, New York.  He was ordained on June 9, 1956.  After ordination, Father Wurth was assigned to summer studies at the University of Michigan in Ann Arbor where, in 1959, he obtained an M.A. in Latin and Greek.  He also taught in Maryknoll seminaries in Clarks Summit and Glen Ellyn.
In 1960, Father Wurth received his first overseas assignment to Taiwan, where he worked among the mountain tribal people until 1966 when he was recalled to the United States.  He spent the next 13 years on vocational recruitment, fund-raising and mission awareness talks from offices in Cincinnati, Los Angeles, New York City and Maryknoll, New York.
As a member of the U.S. Region, Father Wurth returned to Asia in 1979, but this time to Hong Kong to join others in opening a research center for the study of religion in China.  He made many trips to China as the country was reopening after many years behind the Bamboo Curtain.  He visited church personnel, most of whom had spent many years in prisons and labor camps for their religious beliefs.  He was officially assigned to Hong Kong in December 1982.
In 1988 Father Wurth began another chapter in his life, when Cardinal John Baptist Wu, Bishop of Hong Kong, asked him to become pastor of St. Anne's Church in Stanley, an international parish with more than 50 nationalities among its parishioners.  While pastor of St. Anne's, he also served as chaplain to four prisons in the parish, and managed two Chinese schools.  He spent one day a week at his research office and published two volumes entitled "Papal Documents Relating to China."  Father Wurth continued as pastor of St. Anne's until November 2011 when he moved to the Stanley Village House in Hong Kong.  He helped out at three local parishes, and in June 2013 was assigned to the Senior Missioner Community.
Father Wurth returned to the United States in January 2014 and moved to Kalida, Ohio, where he assisted at St. Michael's Parish.  In 2019 he celebrated his 90th birthday in Kalida surrounded by hundreds of parishioners, family members and friends.
A Mass of Christian Burial was held at 10:30 a.m. on October 12, 2021 at St. Michael's Catholic Church in Kalida, Ohio.  Father Mark Hoying officiated.  Burial followed in St. Michael's Cemetery, Kalida, Ohio.
A Memorial Mass was held on October 15, 2021 at 7:30 p.m. at St. Anne's Church in Hong Kong, with Cardinal John Tong presiding.
A Memorial Mass was celebrated at Maryknoll, New York on November 3, 2021 at 11:00 a.m. in Queen of Apostles Chapel.  Father John McAuley was Principal Celebrant and Father Peter Barry was homilist.  Father John Moran read the biography and Father Cuong Nguyen read the Oath.