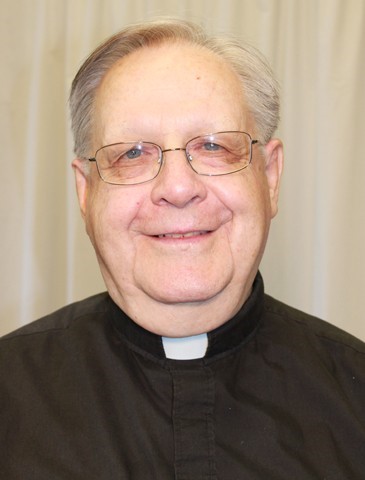 Father Ernest C. Lukaschek, MM
Born: February 5, 1936
Ordained: June 13, 1964
Died: May 18, 2020
Father Ernest C. Lukaschek died on May 18, 2020 at Phelps Memorial Hospital in Sleepy Hollow, New York.  He was 84 years old and a Maryknoll priest for 55 years.
Ernest Constantine Lukaschek was born in Brooklyn, New York on February 5, 1936, son of Ernst and Hedwig Kaps Lukaschek. He attended St. Barbara Elementary School, Brooklyn, New York and graduated from Brooklyn's St. Francis Preparatory School, run by the Franciscan Brothers, in January 1954. He entered Maryknoll Junior Seminary (Venard), Clarks Summit, Pennsylvania in June 1954, for the special summer course, and graduated from Maryknoll College, Glen Ellyn, Illinois in 1959 with a Bachelor of Arts degree in Philosophy. He received a Bachelor of Divinity degree in Sacred Theology from Maryknoll Seminary, New York in 1963, and a Master of Religious Education degree in Liturgy from Maryknoll, New York in 1964. Father Lukaschek was ordained a priest at Maryknoll, New York on June 13, 1964.
After ordination, Father Lukaschek was assigned to Maryknoll's Mission Region in Chile. He attended language school in Cochabamba, Bolivia, and arrived in Chile in February 1965. His first assignment was to the rural town of Licanten in central Chile, and in 1971 he went to the city of Santiago to join other Maryknollers in the Parish of San Alberto. In 1969, he was appointed Second Alternate Consultor for the Chile Region and was reappointed for a second term in 1972. From September 1975 to September 1978, he served in the U.S. Region in the Development Department in the Chicago area.
Father Lukaschek returned to Chile in September 1978, to the Parish of Hualpencillo near the city of Concepcion, and was instrumental in its being turned over to the local Chilean clergy by the end of 1980. In October 1980, he was appointed Assistant Regional Superior for Chile, while serving as Pastor of two parishes for a six-year commitment in the northern city of Antofagasta. He was reappointed Assistant Regional Superior for Chile in October 1983, and on May 17, 1988 was appointed Regional Superior of the Chile Region, to serve out the remainder of the term which ended on September 30, 1989.
In 1990, Father Lukaschek was assigned to the Parish of Huamachuco in the city of Santiago, until the end of 1996, when it was turned over to the local clergy. In 1997, he established the parish of Blessed Pietro Bonilli in Puente Alto, a town south of Santiago. Father Lukaschek was elected delegate of the Andean Region (Peru/Chile) to the Tenth General Chapter in 1996. In January 1997, he was appointed Assistant Regional Superior for that Region, and in October 1998 was appointed Regional Superior.
At the time of his Fiftieth Jubilee, Father Lukaschek reflected that the highest point in his mission work was seeing Christ being manifested through the lives of Chile's laity and clergy, and celebrated turning over the parishes to the local church.
In October 2004, Father Lukaschek was assigned to the U.S. Region to assume the position of Pastoral Minister at the Society Center in Maryknoll, New York.  He continued in this position for many years. He served as the Local Superior for the Maryknoll Community residing at the Center from December 2014 through July 2017, and in February 2018 filled in as interim House Superior. He was appointed an Assistant to the Superior of the Senior Missioner Community in March 2018. He also served on the Pastoral Visitors Team at the Center, and often helped with Masses at the Maryknoll Sisters Center.
A Mass of Christian Burial was celebrated in Queen of Apostles Chapel on May 20, 2020 at 11:15 a.m. Father Kevin Hanlon was Principal Celebrant and homilist, and Brother John Blazo read the Oath and biography. Burial followed in the Maryknoll Society Cemetery.