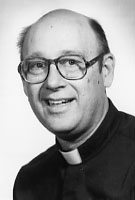 Father Eugene A. Thalman, MM
Born: October 22, 1933
Ordained: June 11, 1960
Died: June 25, 2005
Father Eugene Thalman died in St. Paul's Hospital, Kowloon, Hong Kong on June 25, 2005. Father Thalman was 71 years old and a Maryknoll priest for 45 years.
Eugene Andrew Thalman, the only son of Andrew and Regina Noesen Thalman, was born on October 22, 1933 in Tessville, Illinois. He has one sister, Marilyn. After attending elementary schools in Illinois, he entered Maryknoll in September 1947. Father Thalman was ordained June 11, 1960, and assigned to the Maryknoll Mission Region of Formosa/Hong Kong.
Father Thalman became proficient in the Cantonese language and from 1960 through 1994 he served as parish priest, rector, Regional Coordinator, Assistant Regional Superior and Regional Superior. He did leave Hong Kong briefly for studies in the U.S., taking courses in Ministry and Counseling at the University of Chicago in 1966-67; in Justice and Peace at Loyola University in Chicago in August 1967; and receiving a Masters Degree in Economics from the University of Notre Dame in 1983.
Father Thalman became the Justice and Peace Coordinator in his Region in 1977. This involved research, writing, education, administration, amnesty, and working with small groups. He was instrumental in keeping the Center for the Progress of Peoples vibrant in Hong Kong, and became the Chairman of the Board of Directors of the Asian Centre for the Progress of Peoples. In his years in Hong Kong, Father Thalman served in many capacities including Chaplain to the Catholic students of the Baptist College, and the National Chaplain of the Hong Kong Catholic Scout Guild.
In February 1994, Father Thalman was assigned to the United States for development work, first in Minneapolis and then in Chicago. After three years, he was reassigned to Hong Kong in January 1997. He served as pastor of Our Lady of Fatima Parish on Cheung Chau Island in Hong Kong, where he oversaw an elementary school of 700 students (Sacred Heart School), conducted retreats and ministered to people in senior citizen homes and in the island's small hospital. In an outreach to high school students on the island, he founded an 'English is Fun' program, improving language skills through public speaking, drama and creative activities. He continued in this work until 2002, when he took a sabbatical year. In March 2004, Father retired and went to live with the Sisters of the Immaculate Heart of Mary in Kowloon, but continued to assist at his former parish of St. Patrick's on the weekend.
The funeral Mass was held on July 4, 2005 at St. Teresa's Church. Kowloon, Hong Kong, with Bishop Tong as Principal Celebrant. Burial was on July 5, 2005 at Cheung Sha Wan Catholic Cemetery in Kowloon. A memorial Mass was celebrated at St. Joseph's Catholic Church in Wilmette, Illinois on Saturday, July 16, 2005, as well as in Queen of Apostles Chapel, Maryknoll, New York.