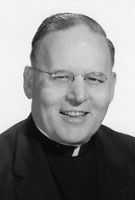 Father Eugene F. Higgins, MM
Born: July 27, 1905
Ordained: July 6, 1930
Died: December 3, 1997
Father Eugene Higgins died at St. Teresa's Residence in the evening of Wednesday, December 3, 1997. He was 92 years old and a Maryknoll priest for 67 years.
Eugene Higgins was born on July 27, 1905, in Newark, New Jersey, son of John and Teresa McMahon Higgins. He had one brother and two sisters. He attended St. James Parochial School in Newark for six years, and St. Leo's Parochial School in Irvington for two years. Then, after three years at St. Benedict Preparatory College in Newark, he entered Maryknoll Apostolic College, (Venard), Clarks Summit, Pennsylvania on September 7, 1922. After completing two years of philosophy studies at Maryknoll Seminary in Ossining, New York, he was assigned to Rome on June 17, 1928 to receive his Licentiate Degree in Theology at the Dominican University of St. Thomas Aquinas (Angelicum). He was ordained in St. John Lateran Basilica in Rome on July 6, 1930.
On September 7, 1930, he pronounced the newly formulated Perpetual Oath to the Maryknoll Society at Collegio Maryknoll in Rome. Father Higgins returned to Maryknoll, New York in July 1931, and was assigned as Procurator at the Venard. In 1936, he was named acting Treasurer of the Maryknoll Society and later Seminary Econome and Mission Procurator.
With Maryknoll's entrance into South America, Father Higgins was assigned on March 2, 1942 to Bolivia where the Society had established two new Maryknoll missions; one in the Apostolic Vicariate of the Pando and another which was comprised of the three Bolivian dioceses of La Paz, Cochabamba and Santa Cruz. As Group Superior, he led the first 17 Maryknoll priests to be assigned to these missions which were eventually combined into what is known today as the Maryknoll Bolivia Region. He established the Society Center House in Cochabamba. Father Higgins was appointed Society Superior of the Bolivia Diocese mission in 1944 for a five-year term. At the same time he served as Procurator for the Society Members in the Pando Vicariate. Another activity he engaged in illustrates his sensitivity and deep concern for the sick and the poor. He found time among his other duties to serve as chaplain and director for a volunteer lay group working to better conditions for the poor in the Viedma General Hospital in Cochabamba.
Father Higgins became widely known and highly esteemed by those who came in contact with him. One of his fellow Maryknollers remarked: "We were lucky to have Father Higgins as our Society Superior." In May 1951 he published an article in Worldmission entitled "The Missions and The Corporal Works of Mercy."
As Society Superior, Father Higgins was a delegate to the Maryknoll Society's Third General Chapter held in August, 1946, at Maryknoll New York. He was elected by that Chapter as Fourth Assistant General of the Maryknoll General Council. During his ten-year service as an Assistant General, he was Budget Secretary, a member of the Glen Ellyn Building Committee, and Head Bookkeeper.
In the beginning of the 1950's, Father Higgins began to suffer from medical ailments. Despite his condition, he was appointed Director of the newly established Mission Secretariat in October 1956. On February 1, 1958, he was appointed Assistant Director of the Mission Department where, although faced with limited mobility, for the next 28 years, he organized and developed a unique mission information service, the Maryknoll Overseas Extension Service (MOES).
Maryknollers, as well as people throughout the United States and from many foreign countries, came to MOES to do research and seek information on endless facets of mission needs, activities and organizations. One of his Superiors wrote: "It is providential that he is incapacitated in a limited way, otherwise he would never have organized MOES which is a great service to the missions." Another Superior wrote: "Father Higgins is a courageous man and exemplary priest who continues to render a fine service to Maryknoll and the whole mission world through his present work in MOES." (In 1984, MOES was incorporated into the Society library.)
In the 1970's, be began to use a motorized wheelchair and a specialized bed. No one ever heard him complain of his condition and the pain it caused him. Due to increasing immobility and loss of sight, Father Higgins was enrolled in the Special Society Unit on August 17, 1984 with continued residence in the Seminary building. In February 1990, he transferred to St. Teresa's Residence where he remained as a member of the Retirement Community until his death.
Wake services for Father Higgins were held on Sunday evening, at St. Teresa's Residence Chapel and Queen of Apostles Chapel at Maryknoll Center, New York, where Fr. David I. Walsh presided. The concelebrated funeral Mass was held on Monday, December 8,1997, at 11:00 a.m. at Queen of Apostles Chapel. Fr. Jeremiah Burr was Principal Celebrant and Fr. Gorden Fritz was the homilist. Interment followed at Maryknoll Center Cemetery with Bro. Wayne Fitzpatrick officiating.