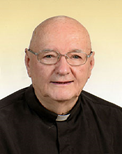 Father Eugene M. Murray, MM
Born: May 3, 1932
Ordained: June 14, 1958
Died: September 18, 2022
Father Eugene M. Murray died on September 18, 2022 in Taichung, Taiwan. He was 90 years old and a Maryknoll priest for 64 years.
Eugene Michael Murray, son of Peter and Margaret Dermody Murray, was born on May 3, 1932 in New York City, New York. He was one of eleven children. Eugene attended St. Peter and Paul and Sacred Heart elementary schools in the Bronx, New York and after two years at Cardinal Hayes High School, on September 6, 1947, entered Maryknoll at Clarks Summit, Pennsylvania. Father Murray was ordained at Maryknoll, New York on June 14, 1958 and was assigned to Taiwan.
After language study in Taichung, in June 1959, he was assigned to Er Lin as curate and as he stated, "My first year in Er Lin was my introduction to mission work." It was a very agricultural society and the work was mainly in the villages, though there were several very good Catholic families living in the Er Lin streets. At the end of his first year in Er Lin, there were over 100 baptisms and the parish was divided into two more parishes. After a year in Er Lin, he was assigned to the Taichung Cathedral parish as curate. While in the cathedral, he started teaching English conversation at the Catholic Hsiao Ming Girls Senior High School in Taichung. At that time, Father Murray commented, "Both at Er Lin and at the Taichung Cathedral, God's grace was very palpable. It was a great time to be a missionary in Taiwan. The people were extraordinarily friendly and open to the Catholic Church. New churches were established every year and the poor were being cared for."
In April 1961, he was assigned to the advanced course in Taiwanese at the Maryknoll Language School and became the new Language School Director in September.
In September 1962, Father Murray was assigned to Tien Chung as temporary pastor. It was a very busy missionary parish with many Catholics from the Spanish Dominican missionary apostolate. In March 1963, he was assigned again to the Cathedral as curate. Now he could speak Mandarin and began visiting the mainland Catholics. In January 1967, he was assigned to the Po Tau parish. Po Tau was a gold mine for Sisters' vocations. In January 1972, Father Murray left Po Tau and was sent to Taipei to run the Center House. After six months, he returned to run the Taichung Language School and the Center House.
In June 1974, Father Murray was assigned to development work in St. Louis, Missouri and he remained there until July 1975. The communist army in Vietnam had taken over South Vietnam in May 1975 and 130,000 refugees were sent to four refugee camps in the United States. At that time, Father Murray was assigned to Washington, DC to work with the United States Catholic Conference Migration and Refugee Service in its Vietnamese resettlement work.
In October 1976, Father Murray was assigned back to Taiwan and to Shalu. This parish had few practicing Catholic families and was financially depressed. Two good things happened in Shalu: he made many conversions and he started teaching the doctrine course. In 1983, he celebrated his silver jubilee and thanks to gifts from friends and relatives, was finally able to fix the church.
Father Murray was prison chaplain at the Taichung prison for many years. He also continued teaching at Hsiao Ming Girls High School until the late 1980's. In 1990, he began teaching English at Providence University, but retired from this position in 1998, the same year he was elected Assistant Regional Superior in Taiwan. In October 2000, he was again appointed Assistant Regional Superior for the Taiwan Region and, in October 2003, was appointed Third Regional Assistant.
In November 1985, Father Murray was assigned to Ching Shui Parish, just north of Shalu. The Catholics in Ching Shui were mostly mainlander soldiers who had come to Taiwan in 1948 and 1949 with their families. As Pastor of the Ching Shui Parish, he continued his missionary and pastoral work.
Father Murray received the Taiwan Citizenship Award in August 2017 in his parish in Cing Shui, being the first foreigner in Taichung to be so honored. In 2018, Father Murray celebrated his Sixtieth Anniversary as a Maryknoll priest with his family and many friends.
Father Murray is survived by his sisters: Ann Marie Jacobs, Theresa Morgan, Mary Corby, and Patricia Thompson.
Mass of Christian Burial was held in Christ the Saviour Cathedral in Taichung, Taiwan on Saturday, October 1, 2022 at 10:00 a.m. The Celebrant was Most Rev. Martin Yao-wen Su, Bishop of the Diocese of Taichung. Burial followed at the Taichung Diocesan priests' area of the Cemetery on Dadu Mountain, Taiwan.
A Memorial Mass was held on October 6, 2022 at 11 a.m. and was concelebrated in Queen of Apostles Chapel. Father Norbert Pacheco was Principal Celebrant and homilist. Father Lawrence Lewis read the biography and Father John Moran read the Oath.