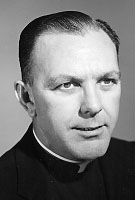 Father Fidelis C. Goodman, MM
Born: May 8, 1917
Ordained: June 11, 1949
Died: December 10, 2003
Father Fidelis Goodman died peacefully at St. Teresa's Residence in the early morning of December 10, 2003. He was 86 years old and a Maryknoll priest for 54 years.
Fidelis Collins Goodman was born in Great Falls, Montana, on May 8, 1917, one of four children born to Michael and Florence Collins Goodman. When he was very young, his family moved to Rochester, Minnesota, where his early schooling took place at St. John's and Central grammar schools and Rochester High School. "Del" graduated from Hamline University, St. Paul, Minnesota in June 1939 with a Bachelor of Arts degree in English and Speech. He attended the University of Minnesota at Minneapolis 1937-1938. Del also attended the Catholic University of America in Washington, D.C. and studied Latin and Philosophy. One of his professors was the late Bishop Fulton J. Sheen. Before he entered Maryknoll in July of 1942, he taught one year as a substitute teacher and was a shoe salesman for one year. Father Goodman was ordained at Maryknoll, New York, on June 11, 1949.
After ordination, Father Goodman was assigned to Maryknoll's mission in Kweilin, South China, but due to the war in China, his assignment was changed to Maryknoll's Hawaii Region. He served as Associate Pastor in Immaculate Conception Parish, Holualoa, and then as Associate Pastor of St. Joseph's Parish at Hilo, under Fathers Thomas Kiernan and John Joyce. At St. Joseph's, his duties included teaching and directing athletics and acting as prison chaplain. Father Goodman was also noted as a magician and often used his tricks to help break the ice with shy people when he was doing mission work in Hawaii.
While home on furlough from Hawaii in 1956, Father Goodman was assigned to teach English and Speech at Maryknoll College, Glen Ellyn, Illinois, and preach student retreats. This led to an assignment to special studies at Catholic University of America, Washington, DC, where he received a Master of Arts degree in Speech. After Catholic University and before he started teaching, Father Goodman accompanied Catholic University Traveling Players on a State Department-sponsored tour of Latin America; 13 countries in three months and was in the prestigious company of the San Francisco Ballet, the New York Philharmonic Orchestra and the Woody Herman Band. This was part of President Eisenhower's Program for Cultural Presentations.
In April 1958, Father Goodman was assigned to the faculty of Maryknoll Major Seminary where he taught Homiletics for sixteen years and served as Assistant to the Center Local Superior for Brothers in Formation. In May 1974, he was assigned to the Development Department and appointed Director of the Minneapolis House in July 1978.
Although, through his gifts and dedication to Maryknoll, he had made a great contribution to Development work, in January 1982 Father Goodman was assigned to the Formation/Education Department. This assignment was made so that he could coordinate Maryknoll's work in Educational TV, which was under the auspices of the Center for Mission Studies. In September 1983, Father Goodman was appointed Coordinator of the Maryknoll Associate Program, a position which he held for four years. In April 1987, he was assigned to the newly established Vocation Office, and since the Associate Program was placed under this office, Father Goodman continued his work in the Associate Priest and Brother Program.
In September 1989, Father Goodman again returned to Development work, this time to the Planned Giving Office. Father Goodman, at age 80, was formally retired on June 1, 1997, but continued to dedicate his services to the Department on a part-time basis until his health deteriorated. He moved to St. Teresa's Residence in July 2001. Several years earlier, Father Goodman wrote an essay entitled "Golden Years of Missionary Priesthood," and he stated "I feel very fortunate, and I'm grateful to God and all of you who helped me along the way with your love and friendship."
Wake services were held at 4:30 p.m. December 11, 2003 at St. Teresa's, where Father Thomas McDonnell officiated and at 7:30 p.m. in Queen of Apostles Chapel at Maryknoll Center where Father Joseph McGahren officiated and Father Wayman Deasy read the biography. Mass of Christian Burial was concelebrated in Queen of Apostles Chapel on December 12, 2003 at 11:00a.m. Father Clyde Phillips was Principal Celebrant and Father John Moran homilist. Burial followed in Maryknoll Society Cemetery with Father Clyde Phillips conducting the graveside service.