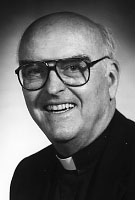 Father Francis A. Diffley, MM
Born: July 19, 1923
Ordained: June 10, 1950
Died: March 27, 2005
Father Francis Diffley died on Easter Sunday morning, March 27, 2005 at St. Teresa's Residence, Maryknoll, New York. He was 81 years old and a Maryknoll priest for 54 years.
Francis Anthony Diffley, one of two children of Peter and Emily Murray Diffley, was born in Brooklyn, New York, on July 29, 1923. He attended P.S. 121 for a time and then St. Mary, Mother of Jesus grammar school, and graduated from St. Francis Preparatory High School, all in Brooklyn, in June 1941. After high school he entered Maryknoll Junior Seminary (Venard), Clarks Summit, Pennsylvania, on August 1, 1941,received his Bachelor of Arts in Philosophy, Bachelor of Arts in Theology, and Master of Religious Education from Maryknoll, and was ordained a priest on June 10, 1950.
After ordination, Father Diffley was assigned to the Faculty of Maryknoll College, Lakewood, New Jersey where he taught English for two years. When the College was closed he was assigned to Maryknoll's Mission in Japan on April 28, 1952. Father Diffley learned the language quickly and well, and was assigned assistant pastor at Hikone, Shiga Ken and later at Uji-Yamada. In June 1955 he was appointed local Superior in Maryknoll's Tokyo House, director of the language school and Econome for the North Asia Society Superior. After a home furlough in 1958 he returned to Kujo, Kyoto City and took up social work among the poor and outcasts in the City and became the Founder and Director of Hope House. Father Diffley considered this the most challenging and most fulfilling work of his priesthood.
Father Diffley was assigned to the United States and the Education Department in September 1966. He was appointed Assistant Novice Master at Maryknoll Novitiate, Hingham, Massachusetts,and later, in 1971, appointed Rector of the Novitiate for two terms. While there he concentrated on Clinical Pastoral Education. On May 26, 1969 he received a Master of Sacred Theology degree at Andover Newton Theological School, Newton Centre, Massachusetts, and on May 22, 1972 he received his Doctor of Ministry degree from the same School. In June 1977 Father Diffley was appointed Associate Director of the newly established Maryknoll Renewal Program for men ordained at least six years.
In April 1980 Father Diffley was assigned to Maryknoll's Mission Region in Hawaii. He served as assistant pastor at St. John the Baptist Parish, Honolulu, and as pastor of Sacred Heart Parish, Waianae, Oahu. Father Diffley became deeply involved in Marriage Encounter ministry in the Diocese of Honolulu. He was appointed First Assistant to the Regional Superior in 1983, and in 1986 he was appointed Regional Superior for a three-year term. He served as the Hawaii Region's Delegate to the 1984 General Chapter at Maryknoll. He was reappointed Regional Superior for a three-year term on October 1, 1989. When his term as Regional Superior ended in 1992, Father Diffley continued working in Sacred Heart parish in Honolulu, until his assignment to the United States as a retired member, effective August 1, 1998. He was assigned to the Mission Promotion Department at Maryknoll, New York, working especially in the area of vocation discovery and discernment. In June 2000, he was appointed to the Vocation Coordinating Committee.
Father Diffley volunteered with the Red Cross to do bereavement counseling in the aftermath of the 9/11 Disaster. He went to various Armories and Fire Houses, comforting those who suffered the loss of loved ones and those participating in the clean-up.
In January 2002, Father was appointed as Pastoral Coordinator and Local Superior of the Maryknoll Center Community. In this capacity he served on the General Chapter Onsite Logistics Committee which was responsible for hospitality, prayers and liturgy for the Chapter held in October 2002 at Maryknoll, New York. In July 2003, this position was changed to Pastoral Coordinator of the Maryknoll Center, responsible for Center Masses, funerals and wakes, etc. He continued in this position until February 2004 when he entered the Retirement Community. However, he continued to be actively involved in Marriage Encounter, until December 2004, when his illness necessitated a move to St. Teresa's.
Wake services were held at 4:30 p.m. on March 31, 2005 at St. Teresa's, with Father Thomas Ahearn officiating, and at 7:30 p.m. in Queen of Apostles Chapel at Maryknoll Center where Father Thomas Keefe officiated and Father John Hudert read the biography. Mass of Christian Burial was concelebrated in Queen of Apostles Chapel on April 1, 2005 at 11:00 a.m. Father John McAuley was Principal Celebrant and Father Thomas Ahearn homilist. Burial followed in Maryknoll Society Cemetery with Father John Barth conducting the graveside service.