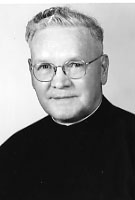 Father Francis E. Mullen, MM
Born: June 1, 1892
Ordained: June 17, 1928
Died: December 17, 1981
Father Francis E. Mullen, who was 89 years of age, died in the infirmary of St. Teresa's on the evening of December 17, 1981.
Father Mullen had given a great many years of service to the Maryknoll community in many different capacities. He was well known for his gentleness and his desire to serve others. In his latter years at St. Teresa's, before he became ill, he was eager to take care of the small material needs of the men at St. Teresa's by making their purchases at the Seminary store.
He was born on June 1, 1892, at Pittston, Pennsylvania. He was the seventh of eleven children born into humble surroundings to Anthony Mullen and Bridget Reddington. He was baptized at St. John's Church, in Pittston, and confirmed in 1905 by the famous Bishop Michael John Hoban who was then Bishop of Scranton.
Because of the poverty of his parents, at the early age of thirteen he began to work in the coal mines, and later worked for the railroad, often as a telegraph operator, until he entered the Venard in 1919. In his short autobiography we find these words: "The desire to be a priest was ever in my mind in school days. But being blessed with poor parents, I thought the priesthood for me was an impossibility." However, during the fatal illness of his mother in 1913, he met a priest who was to point out the way to Maryknoll. And, later, Fr. Bonaventure McHugh, of St. Ann's Monastery, Scranton, and Fr. Paul Kelly, from Scranton, were instrumental in seeing to it that young Francis made his application and was accepted for the Venard. At the time the Rector of St. John's in Pittston wrote these few words of recommendation: "it affords me pleasure to recommend the bearer, Mr. Francis Mullen, as a most estimable young man of absolutely unblemished moral character." After three terms at the Venard, Frank found himself at Maryknoll, New York in 1922.
With a group of fifteen fellow seminarians, Frank Mullen was ordained to the priesthood on June 17, 1928. As a young priest he was first assigned to Fushun, Manchuria in 1928 and there he remained until 1937, when he was in the States for his decennial and because of poor health. In 1939 he returned to Fushun only to be deported during the war years in 1942 on the Gripsholm. In 1943 he was appointed Spiritual Director at the Major Seminary. Three years later he was named Director of the Brothers at the Center. He remained in this capacity until 1957 when he went to St. Louis as Local Superior. The following year he was appointed Procurator at Bedford. He also fulfilled several other assignments until he took up residence at St. Teresa's in 1968. In 1978 he was assigned to the Special Society Unit and that same year he celebrated his Golden Jubilee.
The wake service was held on Sunday evening, December 20, in the Main Chapel. Mass of the Resurrection was on Monday with Fr. James P. Noonan as Principal Celebrant. The biography was read by Brother Bonaventure Redman and Bishop Edward McGurkin gave the homily. Burial took place afterwards in the Maryknoll Cemetery.