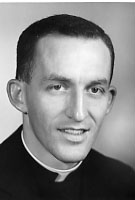 Father Francis E. Paris, MM
Born: November 13, 1938
Ordained: June 11, 1966
Died: April 20, 1989
Father Francis E. Paris died at Carney Hospital, South Boston, on April 20, 1989. He was 50 years of age and a Maryknoller for 31 years.
Father Francis was born November 13, 1938 in Boston, son of William Francis and Elizabeth Josephine Nolan, (Paris). He had one brother and one sister. He attended elementary and high schools and his high school Principal recommended him as "an A student, a good leader, selected as an efficient, reliable No. 1 class officer and a gentleman." In his application to Maryknoll he wrote: "I realize that the life of a missionary priest is difficult and at times it must be very discouraging, but I think I could overcome these trials with the help of God." How prophetic he was as far as his own life was to become!
Francis entered the Venard on June 15, 1957 for special Latin and then transferred to Glen Ellyn in September of the same year. He received his B.A. Degree and later at the Center his Bachelor of Divinity and M.A. Degrees, being ordained on June 11, 1966. He was assigned to the Philippines where he served his entire priestly life. He gained a good command of Visayan and was appointed Assistant Pastor at the Caraga Parish. As time passed he was drawn in to teaching Ministry where much of his mission work took place in classrooms. He was appointed Director of the Maryknoll Institute of Language and Cultural Research in Davao City and served as a chaplain and student counselor at the University of Mindanao until 1981. He then became the teacher of Moral Theology, Ethics and Pastoral Theology at St. Francis Xavier Regional Seminary in Mindanao. He also taught medical ethics at Davao Medical School Foundation, affiliated with the Ateneo University in Manila, teaching the same subject at the San Pedro School of Nursing in Davao City. He was a member of the Board of Trustees at Our Lady of Victory Training Center for Paraplegics.
In November of 1975 he was given a short-term assignment to set up a program of language for the Maryknoll Brothers Mission Unit in Apia, Samoa. He was highly praised and thanked for his work in the language program. In 1977 he conducted a summer institute of spirituality in Davao City. In order to deepen his knowledge of medical ethics, he attended courses at Georgetown University, Washington, D.C. and Harvard, Cambridge, in 1982.
Due to his rigorous schedule his health gradually declined and in March, 1988 he received treatment in Manila. For the past year he was lovingly cared for by his sister, Betty, and her family.
Mass of Christian Burial was offered for Father Paris on April 22 in St. Briget's Church, South Boston. The Wake Service was held at the Center in New York and Mass of Christian Burial offered on April 24 with Fr. John Paris, S.J. as principal celebrant and Fr. William Galvin gave the Homily. Burial was at Center Cemetery.