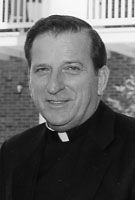 Father Francis F. Schexnayder, MM
Born: December 9, 1935
Ordained: June 13, 1964
Died: December 11, 2012
Father Francis F. Schexnayder died on December 11, 2012 at his mission in Yuanli, Miaoli County, Taiwan.  He was 77 years old and a Maryknoll priest for 48 years.
Francis F. Schexnayder was born on December 9, 1935, in New Orleans, Louisiana, and was the fifth child and third boy of his parents, Fulgence F. and Lucille DeLaneuville Schexnayder.  He attended Mater Dolorosa Parochial School and graduated from Holy Cross High School in New Orleans in 1954.  During his years at Holy Cross, he discovered Maryknoll in the Maryknoll Magazine in their school library.  Francis decided to visit the Maryknoll Promotion House in New Orleans and spoke to Father Francis Murphy, who was the key to his entrance into Maryknoll later that year.  He joined Maryknoll in September 1954 at Maryknoll Junior Seminary (Venard), Clarks Summit, Pennsylvania, where he took a year of special Latin studies.  He received a B.A. in Philosophy from Maryknoll College, Glen Ellyn, Illinois, on June 7, 1959, and from Maryknoll Seminary, New York, he received a B.Div. in Theology in 1963 and a Masters Degree in Religious Education in 1964.  He was ordained a priest at Maryknoll Seminary, New York, on June 13, 1964.
Father Schexnayder's first mission assignment was to the Maryknoll Mission in Taiwan, Republic of China.  After language school in the Taichung Center House, he was assigned first to the Maryknoll Parish in Nantun; later to Tien Chung, and then to Feng Yuan.  In July of 1967 Father Schexnayder was assigned to the Maryknoll mission in Nantou.  Following a home furlough in the fall of 1968, he returned to Taiwan and spent the next year in language school and helping out in various missions.  In 1970 he was assigned as Pastor of the Hsi Chou Parish near Taichung.  Here he made numerous home visitations, using his motorcycle.
In 1973 he was assigned to the Maryknoll Development Department, working for two years out of the Development House in New Orleans, his hometown.  In addition to speaking in many parishes, he also spoke in about 40 military bases during from 1973 to 1975.  His third year with the Development Department found him in New York, working primarily in the Albany Diocese.  As a result of his mother's illness, his return to Taiwan was delayed until July 1977.  After a refresher program in language school to deepen his ability to speak, read and write Taiwanese, he was assigned as the Pastor of two parishes, Yuanli and Tungshiao, in the Hsinchu Diocese.  Besides his parish work, Father Schexnayder established two kindergartens with over 400 children.  He always kept his zest as a missionary with the hope that God's light would shine through him to others who were waiting to believe in Him.
Mass of Christian Burial was celebrated in Sacred Heart Church in Yuanli, Taiwan on December 14, 2012 at 9:00 a.m.  Bishop James Liu, Retired Bishop of Hsinchu, was Principal Celebrant with Father Eugene Murray, homilist.  Burial followed in Yuanli Cemetery.
Another Mass was celebrated at the Taichung Cathedral of Christ our Savior on December 21, 2012 at 10:00 a.m.  Bishop Martin Su, Bishop of Taichung, was Principal Celebrant with Father Eugene Murray, homilist.  In addition, a Memorial Mass was celebrated at Our Lady Queen of Apostles Chapel, Maryknoll, New York.
Each Maryknoll priest is requested to offer Mass for the repose of the soul of Father Schexnayder; all Maryknollers are requested to remember him in their private and public prayers.