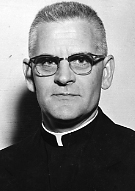 Father Francis G. Kelliher, MM
Born: September 27, 1910
Ordained: June 14, 1938
Died: March 29, 1984
Father Kelliher, after many fruitful years of missionary work in China and Hawaii, was assigned to the Special Society Unit in 1975. He took up residence in Los Altos and then came to St. Teresa's in 1979. It was at St. Teresa's that he died on March 29th.
Father Frank was born in Tacoma, Washington on the 27th of September, 1910 to Robert and Alberta Kelliher. After having finished high school, he worked for a short time in the business world before he entered Maryknoll in 1931 at Los Altos. He was ordained on June 14, 1938 and was assigned to Kweilin.
While in China he worked very conscientiously for the people entrusted to his care. When the Japanese advanced on Kweilin in 1944 he found himself with others working among the refugees, thus making history for the Church and for Maryknoll. In 1945 he was awarded the Emblem for Meritorious Civilian Service. While on furlough in 1947 he worked for a while in the Seattle House. He sailed for Kweilin once again in 1948, but due to Communist activities in the area he was assigned to Hawaii in 1951. His work in Hawaii was very successful because of his zeal and dedication to the people. We find these words in the Hawaiian Monthly Diary: "Father Frank Kelliher is a fine missioner and in the short time he has been here he has brought a large number of people back to the Church…Father Kelliher is a fine missioner and is getting results." In 1971 he was appointed the Regional Superior.
Because of his priestly efforts and his affection for and understanding of people, he was well loved by all. Wherever he was stationed he always gave the people a better understanding of their relationship with God. The people responded to his generosity and became more active in the Church and community. He was a successful missioner.
The Wake Service was held on Monday evening, April 2, at 7:30 p.m. with Father Fidelis Goodman officiating and the Biography read by Seminarian Juan Zuniga. Mass of Christian Burial took place the next day with Father Edward Manning as Principal Celebrant and Homily by Father Thomas Wilcox. Final Absolution was given by Father John Cioppa and burial was in the Center Cemetery.
We are pleased to have had Father Kelliher as a member of the Maryknoll Family and we are grateful to God for a priest who loved people so well.