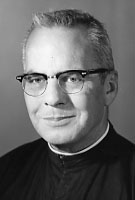 Father Francis G. Murphy, MM
Born: June 9, 1911
Ordained: June 16, 1940
Died: January 11, 1982
Another one of our priests has finished the good race and has won for himself the imperishable crown of eternal glory to be with Christ, the Eternal High Priest. Word was received from our Region in Taiwan that Francis Gerald Murphy died at the age of 71.
It is good to know that another member of our Maryknoll community, during his priestly and missionary career, made it possible by his kindness and simplicity to bring many men and women to the simple message of the Gospel. Bishop Frederick Donaghy wrote of him: "Father Murphy is an exceptionally fine priest, probably one of the mildest men in Maryknoll, and has just finished a very good year of work. In June, 1957 the total number of his Catholics was 25; and this year he has registered an increase of 117 adult conversions. The people hold him in high esteem, as was evidenced here Saturday evening and Sunday morning as they poured in with the hope of visiting him." The same affection was shown him when he was back in the States on sick leave in 1980 for heart difficulties. Many letters arrived from his good parishioners in Taiwan saying how they needed him and would have him return to his parish as soon as possible.
Father Murphy was born in Scranton, Pennsylvania on June 9, 1911, the eldest of three children born to Thomas Murphy and Mary Barrett. He was a freshman in Holy Spirit High School, Scranton, when he heard a lecture given by Fr. Coulehan, M.M. After having finished his second year of high school he applied for admittance to the Venard. After 4 years he passed to the Major Seminary and was ordained on June 16, 1940. His first assignment was to Kweilin. Forced to leave China in 1951 by the Communists, he returned to the States and was assigned to St. Louis to assist Fr. John Martin with the Junior Seminarians. He remained there until 1954 when he was transferred to New Orleans as assistant to the Promotion Director. In April, 1955 he went to Taipei to work once again with his beloved Chinese people. From that time until his death he was assigned to the Taiwan Region. Assigned to the Special Society Unit in 1981, he remained in Taiwan.
Since Father was buried in Taiwan a funeral Mass was held at Maryknoll Center on January 14. The Principal Celebrant was Fr. Albert Good, with Frs. William R. McCarthy and John Moran as Assistants. Homily was given by Fr. Moran and the biography read by Fr. Harrington.
The words of St. Paul in his first chapter to the Corinthians can well be applied to the priestly and missionary life of Father Francis Murphy: "For the weak I made myself weak. I made myself all things to all men in order to save some at any cost; and I do this for the sake of the Gospel, to have a share in its blessings." (I Cor. 9:22-3)