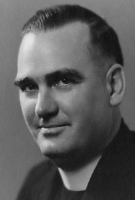 Father Francis J. Connors, MM
Born: May 11, 1900
Ordained: June 19, 1927
Died: February 3, 1939
Father Francis J. Connors was born on May 11, 1900 in Peabody, Massachusetts. He attended Boston College and on the advice of a priest friend, he decided to enter Maryknoll.
He was ordained June 19, 1927 and assigned to Kongmoon, South China. After his language study he was sent to assist Father, later Bishop, Paschang at the Kochow Mission. While working there he visited the leprosarium at Sheklung. He was immediately attracted to the work to which he was later to devote his life.
For the period of a year Father Connors taught English at the Kochow Sacred Heart School. He was then assigned to assist Father Philip Taggart at Yeungkong. Father Connors had been at Yeungkong only a short while when Father Taggart suddenly became ill and died. After the funeral Father was ordered to Hong Kong for a rest as he was physically exhausted. On the way to the Crown Colony he collapsed. This was the beginning of an illness that was to confine him to a hospital for the next two years. Upon his release he went to Wuchow under the supervision of his old friend and classmate, Father Joseph Ryan.
In 1933, at his own request, he was assigned to assist Father Joseph Sweeney in the apostolate for the lepers, a large colony of whom led a precarious existence in a cemetery outside Sunwui.
After eleven years in China, five of them in this difficult apostolate for the victims of Hansen's disease, Father returned to the States for a well-earned furlough. While in this country he went on a lecture tour on behalf of his people and often spoke as many as six and seven times a day.
Before returning to China, Father Connors became ill. He was informed that he did not have long to live and Maryknoll was proud of his work. His answer was simply: "Well, I hope I haven't done any harm."
Father Connors died on February 3, 1939, at the age of thirty-eight. He was buried at Maryknoll on February 6th.