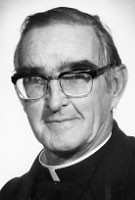 Father J. Francis Flynn, MM
Born: April 26, 1926
Ordained: June 14, 1952
Died: December 13, 2003
Father J. Francis Flynn died in the evening of December 13, 2003 at St. Teresa's. He was 77 years old and a Maryknoll priest for 51 years.
James Francis Flynn was born on April 26, 1926, in Boston, Massachusetts, son of James J. and Elizabeth Gallagher Flynn, Irish immigrants. He has one sister, Mrs. James Gallivan of Dedham, MA. He attended St. Mary's of the Assumption Grade and High Schools in Brookline, Massachusetts, and graduated in June 1943. During his high school years he worked in various jobs around the Boston area.He entered Maryknoll Apostolic College (Venard), Clarks Summit, Pennsylvania, on September 1, 1943. After two years he transferred to Maryknoll Seminary in New York, where he received his Bachelor of Arts degree in Philosophy in June of 1947. After one year at Maryknoll Novitiate in Bedford, Massachusetts he returned to New York to study theology and was ordained a priest at Maryknoll Seminary, on June 14, 1952.
After ordination, Father Flynn was assigned to Maryknoll's mission in Musoma, Tanganyika, East Africa (now the Diocese of Musoma, Tanzania), where he had served most of his mission life of 50 years. During his first year of language and cultural studies he also served as assistant pastor of the Iramba mission. He was seriously injured in a motorcycle accident in 1953, but recovered fully and returned to the Iramba mission. In 1955 he was assigned to study the Swahili language and to the faculty of the newly opened St. Pius Minor Seminary in Musoma. In 1957 he was appointed Rector of the Seminary, a four-year Middle School, and supervised the transfer to its new location at Makoko. After one year at Makoko, he returned to pastoral work. One of his students later became a Bishop and three men were ordained priests.
In early 1960 he was assigned to study Gikuria, his third language, and open a new parish as pastor in Kiagata where he stayed for four years. He organized the new mission, built first a rectory and later a church with great help from the parishioners. The independence of Tanganyika occurred at this time and was cause for civil and religious celebrations.
After home leave in 1964, he was assigned as assistant pastor of the Isibania Parish in Kenya because of the lack of Kuria speaking priests in the Kenya Diocese. In 1968, he was assigned to Musoma Diocese in Tanzania. He served as Assistant in Tarime Parish until 1970, caring for the Kuria people living outside the town. He was then assigned to the Kiagata mission as pastor. Seeing the need for evangelization in a new area of the Diocese, he campaigned for someone to work there among the Kuria people. In 1975 he was assigned to open a new parish as pastor in a new government county – Mugumu. After a number of years of living in an outstation house and trying to locate all the Christians and establish the Church, he built a rectory in Mugumu, a central town with a large area attached. In 1981-82, he built a rectory there. In 1983 he returned home medical treatment from which he recovered well and returned to Africa.
In December 1984 he was asked by the Bishop to go to the Nyamwaga Parish and to help out for three to four weeks and spent the next ten years there as pastor. At his request he was moved to Kowak Parish and began working among the Kuria people at an outstation. He also was instrumental in promoting education for the youth of the country and those relationships continued to bear much fruit as a result of his support of their education. He was known as a priest with deep pastoral concern for the spiritual growth and welfare of his parishioners. Father Flynn retired in January 1997 and was moved to Makoko, where he lived until returning to the United States and St. Teresa's Residence, Maryknoll, New York in June 2003.
Wake services were held at 4:30 p.m. on December 17, 2003 at St. Teresa's, where Father Thomas McDonnell officiated, and at 7:30 p.m. in Queen of Apostles Chapel at Maryknoll Center where Father Michael Snyder officiated and Father James Lehr read the biography. Mass of Christian Burial was concelebrated in Queen of Apostles Chapel on December 18, 2003 at 11:00 a.m. Father Ed Wroblewski was Principal Celebrant and Father Carroll Houle homilist. Burial followed in Maryknoll Society Cemetery with Father John Sivalon conducting the graveside service.