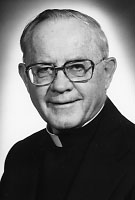 Father Francis J. Garvey, MM
Born: March 15, 1917
Ordained: February 7, 1943
Died: March 1, 2006
Father Francis Garvey died on March 1, 2006 at St. Teresa's Residence. He was 88 years old and a Maryknoll priest for 63 years.
Francis Joseph Garvey was born to Francis. and Elizabeth Kane Garvey on March 15, 1917, in LaCrosse, Wisconsin, the oldest of eight children; five boys and three girls. The family was raised on a dairy farm in southwestern Wisconsin, where primary education was in a one-room rural schoolhouse, Progressive Ridge Rural School. He attended Seneca High School in Seneca, Wisconsin; and Columbia (Loras) Academy, Dubuque, Iowa. After his first year of college at Loras he entered Maryknoll Junior Seminary in Cincinnati on September 4, 1935, and attended classes at St. Gregory Seminary in Cincinnati. In September 1937 he moved to Maryknoll Apostolic College (Venard), Clarks Summit, Pennsylvania. He was ordained a priest at Maryknoll Seminary, Ossining, New York on February 7, 1943.
After ordination, together with six classmates Father Garvey was assigned to Maryknoll's new mission in Puno, Peru, at an altitude of 13,000 feet! His assignments included teaching at Colegio San Ambrosio, and serving as Chaplain to two government rural normal schools, one in Chupaca, Huancayo and one in Pucara, Puno. In Pucara he also served as pastor of the local parish. Due to an illness, he was transferred to the Shrine of Cotoca in Santa Cruz, Bolivia. Continued poor health necessitated his return to the United States.
After some rest he served as Spiritual Director of Maryknoll Junior Seminary in Brookline, Massachusetts in 1948/49. Later in 1949 he and four other Maryknollers were assigned to Mexico City to assist Bishop Alonso Escalante, M.M. in founding the Mexican Foreign Mission Seminary. It soon became the Society of the Missioners of Guadalupe. During the past fifty years they have grown into a flourishing mission society. On December 1, 1954 Father Garvey was assigned to the Maryknoll Mission in Guatemala where he was to serve for thirty years in various positions. He spent ten years in Guatemala City administering in the Maryknoll Center House and serving as Assistant Pastor of Our Lady of Guadalupe Parish in Guatemala City. For the next twenty years he served in Huehuetenango as pastor of the parishes in Malacatancito, La Libertad and the Cathedral in Huehuetenango. For many years he was Chancellor of the Diocese and Spiritual Director of the Cursillo Movement. For one three-year term he served as Second Consultor for the Guatemala – El Salvador Mission Region. In 1985, Father Garvey and five other Maryknollers were awarded the Papal decoration Pro Ecciesia et Ponufice for their work in building up the Church in Huehuetenango.
In January 1982 Maryknoll recalled Father Garvey to the United States. For the next ten years he did Development work out of the Detroit Development House. During five of those years he was the Director and Local Superior of the Detroit House. He was then reassigned to the Central America Mission Region as of September 1, 1992, and he returned to Huehuetenango, Guatemala. On September 1, 1997 he entered the Retirement Community, continuing to spend most of his time in Guatemala. Finally in October 1999 he moved into the Maryknoll Residence, Los Altos, California. He remained there until August 2005, when he moved to St. Teresa's.
Wake services were held at 4:30 p.m. on March 2, 2006 at St. Teresa's and at 7:30 p.m. in Queen of Apostles Chapel at Maryknoll Center where Father George Ratermann officiated and Brother Wayne Fitzpatrick read the biography. Mass of Christian Burial was concelebrated in Queen of Apostles Chapel on March 3, 2006 at 11:00 a.m. Father John McAuley was Principal Celebrant and homilist. Burial followed in Maryknoll Society Cemetery with Father Francis McGourn conducting the graveside service.