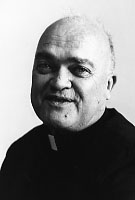 Father Francis J. O'Neill, MM
Born: February 20, 1908
Ordained: June 17, 1934
Died: January 1, 1985
On August 14, 1934, four young men boarded the S.S. General Sherman in Portland, Oregon. They were starting out on a new life, Maryknoll Missioners heading for work in mainland China.
Father Francis O'Neill was among those four missioners and was beginning his mission to China and the Chinese people which was to span almost half a century and end only because of an assignment back to the U.S. for failing health in 1983.
"I came to Maryknoll because I love St. Francis of Assisi and wish to imitate him; because I read of Theophane Venard, loved him too, and saw his life manifesting a practical way to imitate Francis." These were Francis O'Neill's words when he entered Maryknoll in 1928. His wish was fulfilled in his long career in Maryknoll with Catholic Relief and welfare services in Canton and Taiwan.
Francis heard about mission in his second year at St. Charles College, Maryland. He was sent there by his pastor in Narragansett, R.I. in 1926 at the age of 18 after both had discussed his vocation to the priesthood. The second child in a family of five boys and two girls, he entered Maryknoll in 1928, was ordained in 1934 and assigned to the Kongmoon Mission in that same year. He worked in Kongmoon until 1948 when his work with Catholic Relief Services began in Canton, South China. Expelled during the Chinese revolution in 1951, he was assigned to Taiwan where he continued to work with the poor in C.R.S. In Canton and Taiwan Frank was involved with countless projects for relief of refugees, the sick, the hungry and the homeless. He was assigned to the Special Society Unit in 1974 and remained in Taiwan.
March 19, 1983 was the occasion for a simple but moving ceremony of blessing Frank O'Neill's final project, Bethlehem Inn, as a nursery for the children of the residents of his home for unwed mothers and unwanted infants. During the ceremony Archbishop Kia paid great tribute to Frank, recalling his many works for the Church in Taiwan.
Fr. O'Neill returned to the U.S. and St. Teresa's Residence in May of 1983. In June of 1984 he celebrated his Golden Jubilee of Priesthood. He died of complications during heart surgery at Phelps Memorial Hospital on January 1, 1985.
Perhaps words written by Francis O'Neill on a porch in the Shamin area of Canton in 1952 introducing his work Out of Travail capture his mission to the Chinese and the poor. He says, "I write a story of a stranger in strange lands to inspire the reader to think about the desirability of 'one world' comprised of a brotherhood of man wherein there need never be refugees who are strangers in strange lands."
The Wake Service was held in the Maryknoll Society Chapel on January 3, 1985, with Father Bernard P. Byrne officiating and the Biography read by Father Thomas McDermott. Mass of Christian Burial was concelebrated on the 4th with Father Robert Crawford as Principal Concelebrant and Father John Moran giving the homily. Burial followed in the Center Cemetery, the service being conducted by Father John Corcoran.