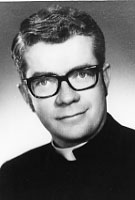 Father Francis J. Taney, MM
Born: December 12, 1929
Ordained: June 14, 1958
Died: November 10, 2001
Father Francis Taney died in a hospital in Tampa, Florida on November 10, 2001. He was 71 years old and a Maryknoll priest for 43 years.
Francis Taney was born on December 12, 1929 in Geneva, New York, son of Cornelius and Alice Riley Taney. He has three brothers and two sisters. Father Taney attended St. Francis de Sales grammar school and Geneva High School, and after graduation joined Maryknoll in September 1948. Father Taney was ordained June 14, 1958 at Maryknoll, NY.
The Philippine Islands was the first mission assignment for Father Taney in 1958. With five other Maryknollers, he sailed from Seattle on a merchant ship, The Evelyn, which took a month to arrive in the Philippines. On board Father Taney learned to pray the Our Father and Hail Mary in Visayan from the Filipino cook. After arriving, he studied a formal language course for seven months. When the language students graduated, Father Taney received on his diploma the title, "Ang Magdadasig" (one who encourages).
After one year in Christ the King Church in Tagum, with Father Joseph Regan and classmate, Father John Rich, Father Taney was assigned to open a new parish, St. James of Compostella. With the help of the local people and friends in the United States they were able to build the first high school the town ever had, St. James Assumption Academy. Today there are about 1,000 students in the high school. In 1962 one of his superiors wrote of Father Taney, "He has done wonderful work in setting up the new parish in Compostella. He is a tireless worker and is most enthusiastic."
After six years in the Philippines, Father Taney was assigned to the United States for promotion work. He was in charge of the Seattle, Washington house for four years, covering the great northwest, followed by four years in Buffalo, New York, covering the northeast. In July 1972, Father Taney was reassigned to the Philippines and at the time wrote, "My happiest years in the priesthood were in the Philippines and I'm eagerly looking forward to my return." After a two-month refresher course he was assigned parish priest of Asuncion, Davao del Norte. There he and his parish team were busy educating small Christian communities in 140 out-stations and building a permanent center Church, Our Lady of the Assumption. After four fruitful years, his next assignment was to St. James of Cateel, the farthest parish from Davao City. There his older sister, Peg, and her husband visited for a
month and quickly fell in love with the people, mentioning in their departing words, "Now we understand why Father Frank loves the Philippines so much!"
Father Taney's final years of active ministry in the Philippines were in the Archdiocese of Davao. For several years he coordinated campus ministry for the Archdiocese. He was assigned to San Antonio parish in Agdao, Davao City, a large parish in a poor section of the city. All of his years of previous ministry prepared him for the great and fruitful work he did in this parish, where he reconstructed the large parish church and built a priest's residence.
Father Taney developed health problems and in January 1995 was assigned to the Special Society Unit with residence in the Philippines. However in March 1995 he moved to Hawaii for medical treatment and then to work in parish work and special apostolates. There are eight Filipino priests working there now and 53 percent of the Hawaiian Catholic Church is Filipino, so he felt right at home. As of May 1998, Father Taney was assigned as a member of the Retirement Community and took up residence in Tampa, Florida where he was involved in the Florida church, especially among the fast-growing Filipino and Spanish communities.
Wake services were held at 7:00 p.m. on November 15, 2001 at St. Teresa's, where Father Leo F. McCarthy officiated and at 7:30 p.m. at Our Lady Queen of Apostles Chapel at Maryknoll Center, where Father James D. McAuley officiated and Brother Eugene Casper read the biography. Mass of Christian Burial was concelebrated at Queen of Apostles Chapel on Friday, November 16, 2001 at 11:00 a.m. Father Jeremiah Burr was Principal Celebrant and Father Gerald Nagle homilist. Burial followed at Maryknoll Center Cemetery with Father Jeremiah Burr conducting the graveside service.