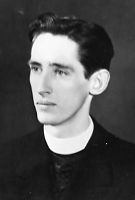 Father Francis M. Cahill, MM
Born: September 16, 1918
Ordained: June 10, 1945
Died: September 12, 1961
Francis M. Cahill was born in Newark, N.J. on September 16, 1918. After four years at St. Benedict's Prep. in Newark he entered the Venard in September of 1936 and was ordained on June 10, 1945.
He was first assigned to study English at Notre Dame University. The following year, after gaining his Master's degree, he joined the faculty at the Venard. Then in May, 1947 he was transferred to the Public Relations Department at the Center as Production Director. In January of 1948 he rejoined the faculty at the Venard. In 1949 he taught English at the newly opened seminary at Glen Ellyn and the following year was transferred to the faculty at Lakewood.
His first mission assignment was to Peru in 1952. After language study he worked in the San Juan Parish of Puno and later at Ayaviri. In 1955 he was sent to take a special English course at Oxford, England, where he obtained his Master's degree in 1960. He then rejoined the Glen Ellyn faculty.
In January of 1961 he complained of gallbladder trouble and was examined in Chicago. It was found that he had cancer and that it was inoperable. After some time at Loretto Hospital, Chicago, thinking as usual of the convenience of others, he expressed a wish to be nearer members of his family so as not to place a heavy burden on them of the expense and loss of time incurred by their coming from New Jersey to Chicago to visit him. He was admitted to St. Vincent's Hospital in New York City on January 20, 1961 and was there patiently and cheerfully bearing the heavy cross of suffering until the Lord called him.
Father Cahill died at St. Vincen's on September 12, 1961. The funeral was held at Maryknoll, followed by burial in our cemetery.