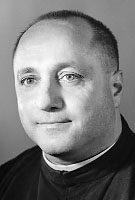 Father Francis P. DeMasi, MM
Born: July 19, 1922
Ordained: June 11, 1949
Died: January 10, 1971
Father Francis P. DeMasi was born in Brooklyn, N.Y. on July 19, 1922. He received his early education in Public School No. 17 in Brooklyn. He was graduated from Cathedral College High School and took a two-year course at Cathedral College before entering the Venard in 1942.
He was ordained on June 11, 1949 and his first assignment was to Transfiguration Parish in New York City.
In 1953 he was assigned to Formosa where he worked until 1962. He then went to the Chicago Chinese Mission Parish. In 1965 Father DeMasi was re-assigned to the Transfiguration Parish, where he had particular influence among the Chinese and the Italians because of his knowledge of their languages and customs. Chinese and Italians make up the bulk of the parishioners in that parish.
Father DeMasi was taken to the Beekman-Downtown Hospital, New York City on January 8, where he died on January 10, 1971.
Father Denis Hanley, the pastor celebrated at a concelebrated Mass and preached the homily in that church on January 14th. Burial at Maryknoll followed.