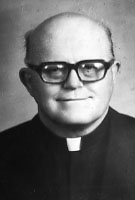 Father Francis Rebol, MM
Born: November 25, 1925
Ordained: June 13, 1953
Died: January 18, 2005
Father Francis Rebol died at Los Altos Residence, Los Altos, California on January 18, 2005. He was 79 years old and a Maryknoll priest for 51 years.
Francis Rebol was born in Smartno, Yugoslavia on November 25, 1925, son of Frank and Frances Sustar Rebol. He had three brothers; one is Father Anthony Rebol of the Cleveland Diocese. Francis arrived in Cleveland, Ohio with his mother and brothers on August 1, 1939, joining their father, a Cleveland resident since 1914. The family was a member of the Slovenian Parish of St. Vitus. Francis was educated at St. Vitus School, and the Benedictine and Cathedral Latin High Schools in Cleveland. He entered Maryknoll Junior Seminary in Akron, Ohio on September 12, 1943. He moved on to Maryknoll Apostolic College (Venard), Clarks Summit, Pennsylvania in September 1944. He transferred to Maryknoll Seminary in Ossining, New York in September 1945, where he received his Bachelor of Arts degree in Philosophy in 1948 and his Master of Religious Education in 1953. On June 13, 1953 Francis was ordained a Maryknoll priest and missionary at Maryknoll Seminary, New York.
The day after his ordination Father Rebol participated in Maryknoll's 36th Departure Ceremony held in St. Patrick's Cathedral, New York City. Within two months he sailed to the Maryknoll Mission in Taichung, Taiwan. With the aid of two teachers he undertook both the Mandarin and the Taiwanese language and culture studies for one year. Father Rebol was appointed the founding pastor of the Sacred Heart of Jesus Mission in Tung Siao in the Miaoli Deanery of the Hsing-chu Diocese. He served there for two and a half years, during which time with God's help the new mission flourished. In 1956 Father Rebol was appointed the founding pastor of the new Yuanli Mission where he served for the next twenty-five years. He started out by introducing himself to the local religious and civic leaders, to business people and the community at large, letting them know that the Catholic Church had come to Yuali. It was during this time that Father was invited to teach English in the local public Junior High School, enabling him to make contact with the teachers, the young students and their parents. He was very successful in organizing the Mission and opening catechumenates for prospective converts. He kept the interests of the people always before him and in return enjoyed their respect and cooperation. Later, he and his parishioners started a glove factory to improve the local economy and built a much needed community hospital. For his humanitarian work, Father Rebol was presented the Good Man, Good Deeds award by the Miaoli county government (1966) and the Man of the Year award by the grateful citizens of Yuanli (1977).
In 1979 Father Rebol took a Sabbatical year of study to learn the art of Chinese written characters. In September 1980 he was appointed to serve as pastor in the three Missions of Peitou, Khe Chiu and Tek-Tong. These three Missions had not had a resident pastor in seven years. He opened a pre-school and a day-care center for the young, a catechumenate for the adults, a job training center and a school for the people with Down's syndrome and the mentally and physically challenged boys and girls.
Father Rebol officially retired February 1999 and continued to live and work in Taiwan. In March 2003, he was assigned to the Retirement Community. When he announced that he would retire from his mission service in Taiwan, he was honored with celebrations at each of the five mission churches he had served in Taiwan. Father took up residence at Los Altos, California in June of that year.
Wake Services were held on January 20, 2005 at 7:30 p.m. with Father James Buttino officiating and Father Richard Bell reading the biography. Mass of Christian Burial was concelebrated on January 21,2005 at 11:00 a.m. Father Anthony Rebol, was Principal Celebrant and homilist. Burial followed in the Maryknoll Society Cemetery in Los Altos, with Father Edward 'Lou' Quinn conducting the graveside services. A Memorial service will be held Maryknoll, New York.