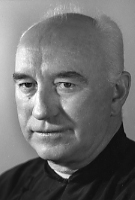 Father Francis X. Keelan, MM
Born: October 15, 1902
Ordained: June 17, 1934
Died: May 9, 1980
Father Francis X. Keelan died at 7:45 a.m. on May 9, 1980 at St. Teresa's. In 1974 he had been assigned to Mountain View but in May, 1976, he moved to St. Teresa's.
Born in Boston on October 15, 1902, Frank attended grammar school and high school in Cambridge and was graduated from the latter in 1920. In the recession days after World War I he was employed by the railroad, was a laborer in a lumber yard, a shipping clerk and, by studying at night in a business college, a stenographer. During this time he attended Mass and received Communion daily and was directed to Maryknoll by Father William Gunn, Pastor of St. Paul's in Cambridge, and a high school friend.
Father Keelan entered Maryknoll in September of 1926 and was ordained on June 17, 1934, being assigned to Wuchow in the following month. His ability in Mandarin was such that he was made professor of that language in Stanley and later in Kweilin. In Kweilin he combined the duties of Pastor, Language Instructor, and Second Consultor to the Society Superior, Fr. Regan.
After his furlough in 1952 he was assigned to Formosa, where he labored among the Mandarin-speaking people until 1974 when he was assigned to the Special Society Unit. He was allowed to return to Taiwan for two months in 1975 to finish a language book he had been writing, but in spite of his appeals was not allowed to stay longer. His ability with the language was such that both Bishop James E. Walsh and Fr. Joseph Regan considered him the best sinologist among the men. The texts and many pamphlets he wrote were of great help to all the newly arriving missioners.
Mass of the Resurrection for Father Keelan was held on May 12th with Father John Halbert as principal Celebrant. Burial followed in the Maryknoll Cemetery.