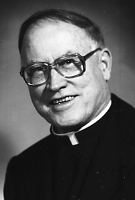 Father Frank T. O'Donnell, MM
Born: September 21, 1925
Ordained: June 11, 1955
Died: May 16, 2014
Father Frank T. O'Donnell died at St. Teresa's Residence, Maryknoll, New York on May 16, 2014.  He was 88 years old and a Maryknoll priest for 58 years.
Frank Thomas O'Donnell was born in Troy, New York, on September 21, 1925, the fourth of six children of Michael and Mary Howard O'Donnell. He attended St. Peter's Academy grade school and graduated from Catholic Central High School in 1942. After a year at Siena College, he enlisted in the Army and was honorably discharged in April 1946.  He entered Maryknoll in September of that year.
After ordination on June 11, 1955, he was assigned to Formosa and worked in the Prefecture of Taichung, located in the center of the island. Except for a period directing local instructors in the Maryknoll Taichung Language School, he worked in many parishes in the three counties of the Prefecture, which in 1962 became a Diocese under Bishop William Kupfer, MM.
One of Father O'Donnell's parishes had a "Learn Writing" class.  This had been begun by Father Robert Crawford, MM for hearing impaired children who would otherwise have remained illiterate. A husband and wife team, both deaf and both very capable, taught the students basic education, enabling them to go on for further education elsewhere.
From that beginning, Father O'Donnell continued his work and close association with the hearing impaired of all ages, especially with the many students he knew in the government School for the Deaf in Taichung City and with their families.
After celebrating his 50th Jubilee in June 2005 at Maryknoll, New York, Father returned to Taiwan and to his work with deaf mutes until his return to the United States in the summer of 2008.  He was assigned to the Retirement Community, August 15, 2008, and took up residence at Mission St. Teresa's.
Wake services were held at 4:30 p.m. on May 26, 2014 at St. Teresa's, and at 7:30 p.m. in Queen of Apostles Chapel at Maryknoll Center where Father John Moran officiated and Father Timothy Kilkelly read the biography.  Mass of Christian Burial was concelebrated in Queen of Apostles Chapel on May 27, 2014 at 11:00 a.m.   Father James Gilligan was Principal Celebrant and Father Delos Humphrey, Jr. homilist.  Burial followed in Maryknoll Society Cemetery.