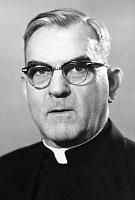 Father Frederick C. Dietz, MM
Born: July 5, 1892
Ordained: September 11, 1916
Died: May 14, 1968
Frederick C. Dietz was born in New York City on July 5, 1892. He came to Maryknoll in 1915 and was ordained by Bishop Dowling of Des Moines, on September 11, 1916. He took his Perpetual Oath to the Society in 1930.
As an exemplary priest and member of the Society for over fifty years, Father Dietz made a varied and extremely fruitful contribution to the Church through his commitment to Maryknoll.
After ordination, from 1916 to 1920 he was on the faculties of the Venard and the major Seminary. He was assigned to Kongmoon in 1920 and in 1930 became the Society Superior of the mission. He was a delegate to the first General Chapter in 1929. In 1932 he was named to the Synodal Commission of Peking. In 1937 he became the Procurator General in Rome, a post he occupied for ten years. At the General Chapter in 1946 he was elected Third Assistant General to the Council. Upon completing his term of office he was assigned to the Venard in 1956 and in 1958 was assigned to Glen Ellyn where he was active as a teacher until his death at the age of 76 years.
A funeral Mass was held at Glen Ellyn on May 17, followed by burial there. A Mass was also celebrated at the Center.