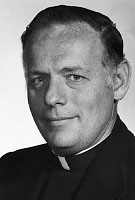 Father Frederick J. Allen, MM
Born: October 8, 1934
Ordained: June 12, 1965
Died: September 23, 2012
Father Frederick J. Allen died at St. Teresa's Residence, Maryknoll, New York on September 23, 2012.  He was 77 years old and a Maryknoll priest for 47 years.
Frederick John Allen was born in Oceanside, New York on October 8, 1934, son of Richard and Elizabeth Stevenson Allen.  He has three brothers, one of whom is his twin, and one sister.  Early in his life, the family moved to Massachusetts, and Fred attended Central Grammar School and graduated from Perly High School, both in Georgetown, Massachusetts, in June 1952.  He graduated from the College of the Holy Cross, Worcester, Massachusetts with a Bachelor of Arts degree in History on June 13, 1956.  After graduation he enlisted in the United States Navy and served for three years, mainly as Lieutenant JG and engineer officer aboard the U.S.S. Courtney. Upon his honorable discharge in 1959, Fred entered Maryknoll College, Glen Ellyn, Illinois on September 4, 1959 for special studies and obtained a Bachelor of Divinity and a Master of Religious Education degrees at Maryknoll Seminary, New York.  He was ordained a Maryknoll priest on June 12, 1965.
After ordination Father Allen was assigned to further studies, and in June 1967 he received a Master of Arts degree in Latin America Studies at St. Louis University, St. Louis, Missouri.  In March 1967 he was assigned to Maryknoll's Mission Region in Chile, South America.  His first assignment there was as acting pastor of Temuco Parish for a few weeks, and then for three years of pastoral work among poor people in the city of Chillan, Chile.  He served as Episcopal vicar in Curepto for a year and a half and then moved to San Miguel Parish in Licanten.  He served there for 14 years, with responsibility for some 40 churches and chapels in a huge area of bad roads and many steep hills.  At times he was pulled by two teams of oxen through water over the level of the headlights of his Chevrolet.
He attended a Pastoral Theology Workshop at Maryknoll, New York in 1980 and the Spiritual Renewal Program in Israel in 1984.  In August 1989 he attended a workshop for better understanding and practice of Spiritual Direction, which took place in the Cardinal Maurer retreat house in Cochabamba, Bolivia.
In the spring of 1995 Father Allen was assigned to the United States, and he moved to Maryknoll's residence in Los Altos, California and joined the Special Society Unit on June 1, 1995.  In February 1997 Father Allen became a resident at Mission St. Teresa and was assigned to the Retirement Community in February 2001.
Wake services were held at 4:30 p.m. on October 1, 2012 at St. Teresa's, and at 7:30 p.m. in Queen of Apostles Chapel at Maryknoll Center where Father Thomas P. McDonnell officiated and Mr. Sam Stanton read the biography.  Mass of Christian Burial was concelebrated in Queen of Apostles Chapel on October 2, 2012 at 11:00 a.m.  Father Ernest Lukaschek was Principal Celebrant and homilist.  Father Allen's body was cremated and the ashes sent to Chile for burial.
Each Maryknoll priest is requested to offer Mass for the repose of the soul of Father Allen; all Maryknollers are requested to remember him in their private and public prayers.