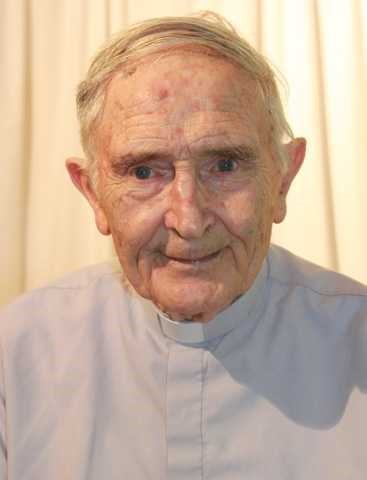 Father Frederick J. Hegarty, MM
Born: January 27, 1927
Ordained: June 13, 1953
Died: October 20, 2019
Frederick Joseph Hegarty was born on January 27, 1927 in New York City, son of William Francis and Margaret Keane Hegarty.  He had three younger brothers.  He attended St. Joseph Parochial School in Newark, New Jersey and graduated from St. Benedict Preparatory School in June 1944.  As a seminarian for the Archdiocese of Newark, he attended Seton Hall College, South Orange, New Jersey, for two years; and then he studied for one year at Immaculate Conception Seminary in Darlington, New Jersey.  He entered Maryknoll on September 14, 1947 and secured his Bachelor of Arts degree in Philosophy in 1948; his Bachelor of Theology degree in 1953; and his Master of Religious Education in 1953 at Maryknoll Seminary, Ossining, New York.  He was ordained a priest on June 13, 1953.
Five days after ordination, Father Hegarty left for his assignment to the Maryknoll Mission in Chile, South America.  After Spanish language and cultural studies at Maryknoll Agricultural School in Molina, Chile, he was appointed Assistant Pastor of Our Lady of Fatima Parish in Talca.  In 1957 he was transferred as Pastor to Parroquia de Nuestra Senora del Carmen in Chol Chol, a territory of 500 square miles inhabited by 11,000 Mapuche Indians and Spanish-speaking people.  In 1963 Father Hegarty was moved to Santiago, Chile and assigned to full-time ministry as national chaplain of Rural Catholic Action and spiritual consultant of the Institute of Rural Education for the formation of lay leaders in Community Development.
Through his programs, he was able to provide basic education and technical instruction to rural workers over a wide area of Chile; helping them to achieve greater economic freedom and social stability.  He was sought after by the Chilean Bishops who recognized him as a leader who understood the mentality and needs of the campesino people.  He was full of missionary ideas.  His Superior wrote of him: "He is engaged in so many works that it is difficult to know what he is about, but you knew it is good."  Father Hegarty engaged in a period of special studies in New York in 1969.
On his return to Chile in 1970, Father Hegarty was chosen by the Chilean Bishops to help establish the National Rural Pastoral Institute.  Together with a group of peasant leaders, rural professionals (agronomists, teachers, etc.) and rural pastoral agents, he set up investigation and reflection teams, programs in leadership training and training of rural pastoral agents.  The Institute's formative years were during the first years of the military dictatorship.  For some years this was the only place for leadership formation in rural Chile.  When his contract with the Chilean Bishops terminated at the end of 1983, Father Hegarty returned home and received an assignment to the Development Department in January 1984.  He served in the Development House in Washington, D.C. for three years.  While serving there he studied at St. Mary's Seminary and the University of Baltimore, earning a Doctor of Ministry degree.
Father Hegarty was again assigned to the Chile Mission Region on January 1, 1987, where he continued in the ministry of forming lay leaders in the Dioceses of Chillan and Concepcion.  He served as Chaplain and Consultant to the "Institute of Rural Education" as well as founder and President of "Rural Missionary Solidarity" (SOLMIRU).  Of his continuing work in Chile, Father Hegarty said, "I work with poor farmers.  Their greatest challenge is to find a place in the new liberal globalization process.  As Children of God, they strive to live with a spirit of solidarity in an organized way.  Our essential task is to share the good news of Jesus Christ with rural Chile." Father Hegarty was named Honorary President of the SOLMIRU Foundation in 2016.
On February 3, 2010 national Chilean citizenship was given to Father Hegarty with special thanks to him for his service to Chile.  And, in April 2010, Father Hegarty was honored by the Episcopal Conference of Chile, for his more than 50 years of ministry to the people of Chile.  At the time, Archbishop Pablo Lizama said: "We appreciate the endearing and valuable work you have done for the evangelization of our peoples, especially with people in the rural world and with a testimony that motivates us to live fully our priestly ministry.  We thank God for Father's life, his vocation and mission which he lived intensely in our country."
Father Hegarty returned to the United States in October 2011 and in July 2012 was assigned to the Retirement Community (now Senior Missioner Community).  Father Hegarty was appointed to the Mission St. Teresa's Prayer Partners Team in January 2016, and to the Pastoral Visitors Team in 2019. Fr. Hegarty continued to reside at the Society Center in Maryknoll, New York.
A Rosary and wake service was held at 4:00 p.m. on October 22, 2019 in the Holy Spirit Chapel at the Maryknoll Society Center.  Father Hegarty's remains were transferred to the Lady Chapel on October 22, 2019 at 9:30 a.m., where his family received condolences and prayers until 10:45 a.m.  The biography was read by Father Richard A. Aylward.  Mass of Christian Burial followed at 11:00 a.m. and was concelebrated in Queen of Apostles Chapel.  Father Ernest C. Lukaschek was Principal Celebrant and homilist.  Burial followed in Maryknoll Society Cemetery with Father John J. Moran conducting the graveside service.