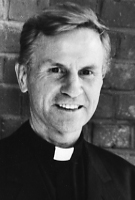 Father Frederick J. Krampert, MM
Born: July 8, 1933
Ordained: June 10, 1961
Died: March 27, 1992
Father Frederick Joseph Krampert died at St. Teresa's Residence at Maryknoll, New York at 5:00 a.m. on Friday, March 27, 1992. He was 59 years old and a Maryknoll priest for 31 years.
Frederick was born on July 8, 1933, in Queens Village, Long Island, son of Frederick Jacob and Mary (Dedek) Krampert. He had one sister. He attended Our Lady of Lourdes Parochial School, Queens, and in June of 1952 graduated from Regis High School in New York City. In September of 1952, Frederick entered Maryknoll College, Lakewood, New Jersey. He received his Bachelor of Arts degree in Philosophy at Maryknoll College, Glen Ellyn, Illinois. At Maryknoll Seminary in New York he received his Bachelor of Sacred Theology and Master of Religious Education degrees and was ordained a priest on June 10, 1961.
After ordination, Father Krampert sailed from New York for the Maryknoll Mission Region in Korea on August 18, 1961. After language and cultural studies in Seoul, he was appointed assistant pastor of the Holy Family Cathedral (Nai Dek Dong) in Chong Ju, where he served for four years. His open, pleasant personality quickly attracted the parishioners and as an industrious missioner with plenty of ideas he worked well with the youth. After a home leave in 1967, he became pastor of the isolated Chong San Parish in the Chong Ju Diocese. He taught English in the Chong Ju College. His superior wrote that: "Fred is very generous with others and in his parish he is 'taken' for a lot and his kindness is overused by his people." He attended the East Asian Pastoral Institute in Manila for theological updating and spent some months in the Philippines recuperating from an illness. His parishioners in Chong San Parish were mostly poor farmers. After graduation from Middle School many of the youth moved to the cities and became lost in the sweatshops of the big city. Father Krampert started a farm and opened a small agricultural school.
After home leave in 1970 Father Krampert was appointed pastor of Holy Family Cathedral and served there for three years. While on home vacation in 1973 he was assigned to the Maryknoll Development Department and served for three years in the San Francisco Development House. During that time he undertook graduate studies in psychology at the University of California at Davis. Upon his return to Korea in 1979, Father Krampert was assigned to mission work in the southern Pusan Diocese, where for 14 years he was deeply involved in the labor apostolate. His work consisted of organizing a number of projects with laborers and labor union people. He taught labor education principles, arbitration methods, formation of labor unions, and ways of seeking solutions for social problems. He managed a printing press which spread the knowledge of labor principles and also many pastoral items for the Diocese. He started the Yong Nam Labor Institute. He did full-time teaching at the Pusan School of Engineering in Pusan. He went to great efforts to gain mission patrons in the U.S. and raised funds to support the labor apostolate and projects in the Masan and Pusan area. Over fifty percent of his apostolate was with young people and he was very successful with them.
On March 8, 1991 he entered the Asian Medical Center in Seoul for medical treatment. His recuperation was very slow and he was recalled to Maryknoll, New York, in January of 1992 where he took up residence at St. Teresa's Residence. During the last months of his life he had high hopes of returning to Korea and continued to make plans to expand the labor apostolate in Korea.
Wake services were held on Monday, March 30th at the Chapel of St. Teresa's Residence at 7:00 p.m. and at Queen of Apostles Chapel at Maryknoll Center, New York, at 7:30 p.m. Mass of Christian Burial was concelebrated on Tuesday, March 31st at 11:30 a.m. in Queen of Apostles Chapel. The Principal Celebrant was Father Edward Davis, M.M.