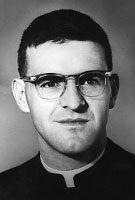 Father George A. Egan, MM
Born: July 18, 1924
Ordained: June 11, 1955
Died: July 9, 2001
Father George Egan died at Northern Westchester Hospital, Mt. Kisco, New York in the afternoon of July 9, 2001. He was 76 years old and a Maryknoll priest for 46 years.
George Anthony Egan was born July 18, 1924, in DuBois, Pennsylvania (Erie Diocese), the son of Daniel and Margaret Caulfield Egan. He had three brothers and nine sisters. Father Egan attended St. Catherine's grade and high schools in DuBois from which he graduated in 1942. He served in the 20th Armored Division of the U.S. Army from April 1943 till February 1946. He attended Villanova University for three years, from September 1946 through May 1949, at which time he applied for entrance into Maryknoll as a student in second Philosophy.
After ordination on June 11, 1955, Father Egan was assigned to do mission work in Shinyanga Diocese, Tanzania, where he remained until he was assigned to the Education Department in August 1970. In 1973 Father Egan was involved in work outside of Maryknoll as a lay person. He returned to Maryknoll in August 1989 and was assigned to the Kenya Region in May 1990. He served in the Nairobi area until April 1994 when he entered the Special Society Unit with residence in the United States. Upon leaving East Africa his Regional Superior wrote: "Father Egan has been a very good and kind pastor to the people of Ujoma Catholic Church. His greatest strength is his compassion. He has also been an exemplary Maryknoller, prayerful, gentle and humorous. I believe he had a calming influence among Maryknollers in the Region, enabling us to be more accepting of each other. For this I and others are grateful. We will miss him."
Father Egan divided his time doing pastoral work near Maryknoll, New York, and acting as an auxiliary Confessor at Lourdes, France for several months a year. In September of 1997 Father Egan wrote to the Superior General about his experiences in Lourdes. "Lourdes is a remarkable place, a real treasure-house of grace and spiritual activity. I am sure that Father Price would give his blessings to the idea. Maryknollers can help by serving as confessors and helping the sick; sharing in the Lourdes spirit. I will help in any way I can in this important venture of the Society."
During his years here at the Center he had a gift of gathering people around him. Maryknollers sought out Father Egan for the latest news about the Pittsburgh Pirates, a serious conversation about mission and the Society, for some advice from a respected elder in the community or the latest joke or story that was told in his humorous manner. Father Egan will be missed here at the Center.
Wake services were held on Thursday, July 12,2001, at 7:00PM at St. Teresa's, where the officiator was Father Thomas P. McDonnell, and at 7:30 p.m. at Queen of Apostles Chapel at Maryknoll Center where Father William P. Heffernan officiated. Father Egan's biography was read by Brother Kevin F. Dargan. Mass of Christian Burial was concelebrated at Queen of Apostles Chapel on Friday, July 13, 2001 at 11:00 a.m. Father Carroll B. Houle was Principal Celebrant and Father Thomas H. Keefe Homilist. Burial followed at Maryknoll Center Cemetery with Father Michael J. Snyder conducting the graveside service.