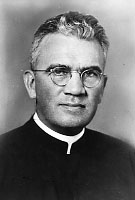 Father George C. Powers, MM
Born: February 24, 1895
Ordained: June 15, 1924
Died: January 8, 1963
George C. Powers was born in Boston, Massachusetts, on February 24th, 1895. He attended St. Patrick's School in Lynn and after graduation went to work for a leather concern for six years, attending evening school at the same time. He entered Maryknoll September 16, 1915. At that time the high school was quartered at Maryknoll, N.Y. It was not until the following year that the present property was obtained and the Venard was started in the farmhouse on the property. At that time there were only four priests in the Society with eighteen major seminarians. There was a like number of minor seminarians and two Auxiliary Brothers. The Teresians, as the Maryknoll Sisters were then called, numbered twelve.
Father Powers was ordained on June 15, 1924. He was assigned to Catholic University where he majored in History. His dissertation, "The Maryknoll Movement", was published in 1926 and is a well documented narrative of the early days of the Society. In 1925 he was assigned to teach at the Venard and in 1928 was made Rector there and a member of the Superior General's Council. In 1931 he was named Rector at Mountain View, holding that post until 1935, when he was appointed Superior of the Maryknoll Hawaiian Region.
During his tenure in Hawaii he taught at the University of Honolulu and had charge of the Newman Club. In 1937 he was assigned to the Major Seminary as spiritual director, professor of Church History, and to prepare material for the life of the Founders. In 1942 he was assigned as Superior in Talca, Chile. In 1946 he returned to Hawaii and remained there until June, 1955 when he was given permission to go to Mountain View for his health.
Father Powers fell ill on January 7th, 1963, and he died at the hospital in Mountain View on January 8, 1963.
The funeral took place at Mountain View on January 11 and burial was at the cemetery there.