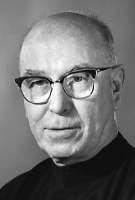 Father George D. Haggerty, MM
Born: April 19, 1901
Ordained: June 17, 1934
Died: August 10, 1974
George D. Haggerty died early Saturday morning, August 10 at Oneida, New York.
During the past few years, George had resided at St. Teresa's. Precarious health did not stop him from attempting to do for others what he had always tried to do in the past; that is, be of service. His great sense of humor and cheerful disposition were appreciated by all who came in contact with him.
George Daniel Haggerty was born on April 19, 1901 in St. Johnsville, New York in the Diocese of Albany. He was accepted for the Venard in August of 1927. He wrote on that occasion: "At the time I finished high school (1917) I had a desire to enter the priesthood." Upon the advice of friends he entered the business world instead, working for the New York Power and Light Corporation for ten years. During that time he was named Office Manager of the Oneida, New York office. About this period in his life he commented: "It seemed to me I had wasted ten years, years that should have been given to His service. The motive that led me to Maryknoll was the desire to liquidate to some extent the enormous debt of gratitude I owe our Divine Lord for giving me another chance to serve Him."
Ordained June 17, 1934, Father Haggerty filled the following assignments: Fushun, Manchuria 1934 (returning on the Gripsholm in 1942), Development Department 1943, Manchuria 1945, Shanghai 1947, Seattle (Pastor of the Japanese Parish) 1949, Taiwan 1953, Center Development 1960, Africa 1965, U.S. Region 1970.
The wake was held at Maryknoll, Monday, August 12, at 7:30 p.m. The Mass of the Resurrection was celebrated on Tuesday, August 13, at 11:00 a.m. with that of Father James A. McCormick.