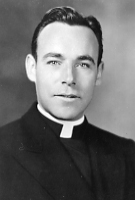 Father George F. Hogan, MM
Born: November 19, 1915
Ordained: February 7, 1943
Died: March 30, 1981
Father George F. Hogan (Mexico) died on March 30, 1981 at the clinic in Merida.
Born in Boston, Mass. on November 19, 1915, George was the youngest of the four children of Michael Joseph Hogan and Mary Ann Heffernan. George had vivid, happy memories of his mother's evening Rosaries and his fathers' insistence on George's attending daily Mass. During grammar school days at Sacred Heart and for one year at East Boston High, George was constantly about the church as 'œassistant sacristan'. The new pastor was Fr. Thomas Garrahan and George became one of the many vocations to Maryknoll as a result of Father's direction.
George entered Maryknoll in September, 1931 at the Venard, where he spent the "happiest years" of his life. As he advanced toward the priesthood, George's maturity and growth showed a remarkable balance of academic and athletic achievement, of work responsibility and boisterous popularity. He was ordained February 7, 1943, and left in March for Mexico where he worked until his death.
Throughout his mission career George was renowned both for his extraordinary language ability and for his language use in exceptional preaching and written articles. This facility helped his popularity with the people and provided a good base for his favorite work with youth.
On Tuesday, March 31st, the funeral was held at San Sebastian Parish with Archbishop Manuel Castro Ruiz as Principal Celebrant and Homilist, and his fellow Maryknollers as concelebrants. Father George was buried in the cemetery Jardines de La Paz in Merida. On Monday, April 6th, a memorial Mass was celebrated at Maryknoll, New York, with Fr. James Weckesser as Principal Celebrant, Fr. Joseph Rickert, a classmate, as Homilist; and Fr. John Harrington reading the Biography.
In his many writings on the Maya, George analyzed their customs well, but most of all in the tone one feels the deep dedication George had for the people. One of the few personal references verbalized in his commitment: "I know the Maya well. I have poured the waters of Baptism over thousands of their heads shortly after they came into this world; on hundreds of others I have left the imprint of the cross with Holy Chrism shortly before they left it. I have heard millions of their sins and have praised their innumerable acts of virtue. I have confirmed them, married them, buried them, and I have gripped their hands as they stiffened in death. I have pleaded and argued, hungered and thirsted, laughed and cried with them. We have shared fiestas and funerals, house and board, sickness and health. They call me Father. I call them Sons and Daughters."