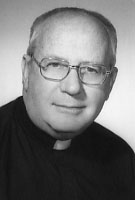 Father George F. Painter, MM
Born: October 25, 1916
Ordained: June 11, 1944
Died: May 13, 2010
Father George F. Painter died on Thursday, May 13, 2010 at Phelps Memorial Hospital in Tarrytown, New York. He was 93 years old and a Maryknoll priest for 65 years.
George Francis Painter was born on October 25, 1916, in Pittsburgh, Pennsylvania, son of George and Agnes Scully Painter. He had two sisters -Sister Mary Agnes and Sister Mary Angela – both Religious Sisters of St. Colman's Convent of the Presentation of the Blessed Virgin Mary of Watervliet, New York. Sister Mary Angela was a teacher and librarian at St. Ambrose parish school in Latham, New York. George attended St. Margaret's Parochial School and in September 1931 entered the Little Seminary High School in Buffalo, New York and graduated in June 1935. On September 8, 1935 he entered Maryknoll Apostolic College (Venard), Clarks Summit, Pennsylvania and passed on through philosophy and theology courses to ordination to the priesthood on June 11, 1944 at Maryknoll Seminary in Ossining, New York.
After ordination, Father Painter was assigned to the Catholic University of America, Washington, D.C. and obtained a Licentiate degree in Theology in June 1945. In September 1946 he was assigned to the Venard Faculty to teach Freshman Latin and Religion and served as Director of the Brothers. On April 29, 1947 he was assigned to the Faculty of Maryknoll Junior College in Lakewood, New Jersey, as Assistant Spiritual Director and instructor in Latin and Religion.
Father Painter was assigned to the Maryknoll Mission in Chile on April 15, 1949. After Spanish language and cultural studies in the Maryknoll language school in Arequipa, Peru, he was appointed Assistant Pastor of the Maryknoll parish in Santiago for six months. One of his first acts was to start a parish newspaper. He then served as Assistant Director in the College of Molina for six months. In 1952 he was appointed Pastor of Parroquia de San Gregorio, a rural parish situated in the Campo outside of Santiago. There were nine chapels and 20 Christian communities, and with the active participation of the parishioners, he laid plans for a parochial school and parish hall. For the next 22 years, he served the San Gregorio parish and its far-flung mission stations with the excellent participation of lay workers in all parochial activities.
Father Painter was appointed pastor in 1986 of the newly acquired rural parish in Lampa, 20 miles from Santiago. He loved the people and the mission work and, in turn, won the respect and affection of the people. He served in this ministry until 1989 when he began serving as a chaplain in the local penitentiary with 3,400 prisoners and as chaplain in the Hospital Clinic of the University of Chile with 800 beds for patients. On January 1, 1992 Father Painter retired but continued his ministry in the Santiago area of Chile until he returned to the United States in early 1994 and took up residence at Maryknoll, New York.
In June 1995 Father Painter asked for permission to return to Chile and to "participate actively again in the work of Maryknoll." This permission was granted, and in February 1996 he was assigned back to the Chile Region. Upon his return, Father's ministry was Hospital Chaplain in several of Santiago's hospitals, including one for children and another for adults suffering with cancer. During weekends, he did pastoral work in a chapel in San Cayetano, Santa Margarita de Escocia.
Father Painter was again granted retired status in January 2001 but continued to live and work in Santiago, Chile. As of March 2004 Father was assigned to the Retirement Community and returned to the United States and was a resident at Mission St. Teresa.
Wake services were held at 4:30 p.m. on Monday, May 17, 2010 at St. Teresa's and at 7:30 p.m. in Queen of Apostles Chapel at Maryknoll Center where Father Ernest Lukaschek officiated and Father Eugene Theisen read the biography. Mass of Christian Burial was concelebrated in Queen of Apostles Chapel on Tuesday, May 18, 2010 at 10:30 a.m. Father Thomas Henehan was Principal Celebrant and homilist. Burial followed in Maryknoll Society Cemetery with Father Paul Masson conducting the graveside service.