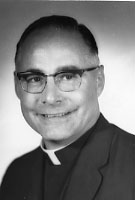 Father George F. Pfister, MM
Born: February 2, 1920
Ordained: June 9, 1946
Died: March 30, 1994
Father George Pfister died peacefully at Phelps Medical Center, North Tarrytown, New York, on Wednesday morning, March 30, 1994. He was 74 years of age and a Maryknoll priest for 48 years.
George Frederick was born on February 2, 1920 in Albany, New York, son of Charles A. and Rosemary Tholl Pfister. He had two brothers and one sister. He attended Blessed Sacrament Parochial School and graduated from Christian Brothers' Military Academy in Albany, in June 1937. George entered Maryknoll Apostolic College (Venard), Clarks Summit, Pennsylvania, in September 1937 and graduated in June 1940. After theological and canonical studies at Maryknoll Seminary in Ossining, New York, he was ordained a priest on June 9, 1946.
After ordination, Father Pfister was assigned to the Maryknoll Education Department and secured a Bachelor of Arts degree in Mathematics in June 1947 at Manhattan College, New York City. Afterwards, he entered St. Louis University, St. Louis, Missouri, and obtained his Master of Science degree in Physics in June 1949. With the opening of Maryknoll College, Glen Ellyn, Illinois, in September 1949, he was assigned to the Faculty and taught the science courses for five years.
On April 20, 1954, Father Pfister was assigned to the Maryknoll Mission in Tanganyika, (now Tanzania) East Africa. After arrival in August 1954, he was assigned to language studies and assistant Pastor of the Gula Mission, Maswa, in Maryknoll's newly established Diocese of Shinyanga. He acquired a good command of the Kisukumu language and cultural practices. In his parochial ministry he spent a great deal of time directly with the people, and enjoyed teaching mathematics in night classes to groups of children. Personally by temperament he was very approachable, generous with his time and funds, and never held grudges. In 1960 he began another three year term of teaching at Maryknoll College, in Glen Ellyn. During that time period he took linguistic courses at the University of Oklahoma, Norman, Oklahoma. During the summer of 1963 he taught a six week course in Kiswahili language at Maryknoll Seminary in New York for a number of Maryknoll priests newly assigned to Africa.
Upon his return to Africa in 1964 Father Pfister became Pastor of the Sayusayu parish in Shinyanga and also taught in St. Pius X Seminary in Musoma. He became fluent in the Kiswahili language and because of his ability as a teacher in 1963 he set up and managed the Maryknoll Language School in Musoma for training Maryknoll missioners entering the Mission. He set up a National Kiswahili Institute for the study and research of both original and translated documents. The Institute served as the authority for the official version of the Church's liturgy, prayers, and catechectical documents after the Second Vatican Council. In 1965 he became Pastor of the Mwamapala Parish. Between 1971 and 1981 Father Pfister served as Assistant Pastor for eleven years in the Jericho Catholic Parish in Nairobi, Kenya, and was a valuable minister in the growth of the parish, especially in functions pertaining to youth programs. He was an excellent teacher, not only in the classroom but also in the local Christian communities. He was especially gifted in setting up the Parish Council. He did this teaching with group meetings and seminars which explained to the lay people their dignity and responsibility at Church. To this day, the parishes where he served are known for the active involvement of the Christian people in their parish affairs. He made use of a computer to collect, analyze and utilize various kinds of data which would aid him in his parish ministry.
Due to a number of sieges of illness over a period of fifteen years, at his request at 65 years of age, Father Pfister was assigned to the Special Society Unit on September 26, 1985 with residence and limited work in Kenya. He returned to Maryknoll Center in New York in February 1987. He entered St. Teresa's Residence on January 23, 1993 and spent his last year of suffering in the loving care and attention of the staff at St. Teresa's Residence.
On Monday, April 4, 1994 Wake services at St. Teresa's Chapel at 7:00 p.m. and at Our Lady, Queen of Apostles Chapel at 7:30 p.m. concelebrated Liturgy of Christian Burial on Tuesday, April 5 in Queen of Apostles Chapel at 11,30 a.m. with Father Frank S. Meccia as principal celebrant, and Father David J. Jones as homilist. Interment in the Society Cemetery at Maryknoll, New York.