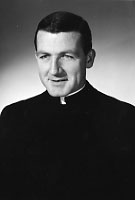 Father George H. McPeak, MM
Born: June 18, 1927
Ordained: June 13, 1959
Died: September 24, 1997
Father George McPeak died at Phelps Memorial Hospital Center in North Tarrytown, New York, at mid-afternoon on Wednesday, September 24, 1997. He was 70 years old and a Maryknoll priest for 38 years.
George McPeak was born in Philadelphia, Pennsylvania, on June 18, 1927, son of John and Margaret Trollan McPeak. He had three brothers and three sisters. One brother, John, became a priest and later was named a Monsignor of the Archdiocese of Philadelphia. A sister became a Sister of St. Joseph. His early education was at Nativity of the Blessed Virgin Mary parochial school and Northeast Catholic High School in Philadelphia. He then studied accounting at La Salle College Evening Division for one year. After that, he worked for two years in the U.S. Post Office. He joined the United States Navy in 1945 where he served for one year and was awarded the Victory Medal. He was honorably discharged as Seaman First Class on July 28, 1946. He then worked in Philadelphia at Pierce-Phelps, an electrical appliances wholesale distribution firm. George entered Maryknoll at Brookline, Massachusetts, on September 7, 1949. He received his A.B. degree from Maryknoll Seminary, Glen Ellyn, Illinois, in June of 1954 and his Master of Religious Education at Maryknoll Seminary, New York. He was ordained at Maryknoll, New York, on June 13, 1959.
After ordination, Father McPeak was assigned to the Maryknoll Mission Region of the Philippines. After language studies in Davao City, he was assigned as Assistant Parish Priest at Panabo on July 1,1960. In 1961 he fell ill and was required to return to the United States for treatment. After his return to the Philippines in October 1962, he was named Assistant Parish Priest in the Santa Teresita parish in Nabunturan. In 1963, the Bishop assigned him to open a new parish – Holy Child – in the town of Mabini where he lived for a time in temporary quarters while he built the parish rectory. In addition to the rectory, he also built a parish school. He was very effective in organizing that new parish. Father McPeak is well remembered to this day in Mabini as the kind and affable Founding Father of the parish and his portrait has a prominent place in the Rectory.
Early in 1965 it became necessary for Father McPeak to return to the United States for further medical treatment. During this period he served as Assistant at St. Joseph's Parish in Ashland, Pennsylvania, where his brother, Fr. John McPeak, was Pastor.
In June 1971, at his Doctor's recommendation, Father McPeak moved to St. Teresa's Residence at Maryknoll, New York. He was assigned to the Society's Special Society Unit on May 1, 1977.
Father McPeak was praised by his Superiors in the Philippines as a very hard worker and dedicated missioner. Other Maryknollers and the parishioners of Holy Child Parish in Mabini remember him for his congenial and pleasant personality.
Father McPeak's illness was very trying for him but in his later years at St. Teresa's Residence he developed his own apostolate of visiting the more gravely ill patients there. He was very patient with them and very faithful to his visits, offering them companionship, comfort and consolation.
Wake services were held at 7:00 p.m. on Monday, September 29,1997 at the St. Teresa's Residence Chapel and at 7:30 p.m. at Queen of Apostles Chapel at Maryknoll Center, New York. Mass of Christian Burial was concelebrated the next day, Tuesday, September 30, in Queen of Apostles Chapel. The Principal Celebrant was Father Wayman Deasy and the homily was given by Father Robert Reiley. Interment followed at Maryknoll Cemetery where Father Michael Snyder presided.