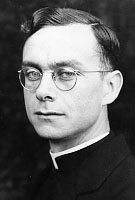 Father George M. Buckley, MM
Born: May 10, 1912
Ordained: September 17, 1939
Died: May 22, 1998
Father George M. Buckley died on the morning of May 22,1998 at St. Teresa's Residence, Maryknoll, New York. He was 86 years old and a Maryknoll priest for 58 years.
George was born in Bridgewater, Massachusetts, on May 10, 1912, son of Cornelius and Bridget Hennessey Buckley and the youngest of 10 children. He attended McElwain Public School, and Junior and Senior High School in Bridgewater. As an altar boy he was attracted to Maryknoll through reading The Field Afar magazine and entered Maryknoll Junior Seminary, (Venard), Clarks Summit, Pennsylvania, in September 1931. In his autobiography in 1931 when applying to Maryknoll he wrote, "I look forward to the future with confidence that with God's help and under Mary's protection I shall make myself a good Maryknoller as a seminarian and later on as a priest". He was ordained a Maryknoll priest at Maryknoll Major Seminary on September 17, 1939, one year ahead of his class so as to pursue graduate studies in Rome, Italy.
Due to World War II, Father Buckley went to Catholic University of America in Washington, D.C. where he secured his Master of Arts degree in Philosophy in 1940. While teaching at Maryknoll, New York, in 1945, he took his doctoral examinations and secured his Doctor of Philosophy degree in 1946. He taught Latin, Philosophy, Mathematics and English at the Venard for three years and during the summer of 1948, he attended courses at the Laval University, Quebec, Canada.
In September 1952, Father Buckley was transferred to Maryknoll College, Glen Ellyn, Illinois, and served as Professor of Philosophy and Vice Rector from 1952 to 1954. He enjoyed a rare year of advanced philosophical studies at Louvain University in Belgium in 1954 and then returned to Maryknoll College, Glen Ellyn where he again served as the Vice Rector until appointed Rector of the College in 1957. In 1964, Father Buckley was temporarily assigned to teach in St. Paul's Senior Seminary in Kipalapala, Tabora, Tanzania for two years. Upon his return to the States he returned to Glen Ellyn and remained there for the rest of his teaching career.
When Maryknoll College was closed in June 1971, Father Buckley remained there as Local Superior of the small Maryknoll community. In 1974, when the college property was sold to the Christian Brothers, he served as Chaplain of the Maryknoll Campus of Lewis University Law School for one year. He then chose to serve as an associate pastor at St. Joseph Parish, Addison, Illinois.
Father Buckley remained at St. Joseph's until June 1979 when he entered the Special Society Unit and took up residence at Maryknoll Residence, Los Altos, California. The Superior General wrote at that time "I wish, at this time also, George, to say what you already know–my deep admiration and gratitude for all that you have done for the Society, especially through the many years of the seminary system. I express this gratitude personally, of course, but also in the name of the Society. I feel that you have been, for me and for others, a dedicated, balanced and perceptive leader". After the major earthquake in northern California, which severely damaged the Residence on October 17, 1989, Father Buckley moved to the rectory of St. Ann's Church in San Francisco. When the repairs were completed, he went back to Los Altos. In early 1998 he moved to St. Teresa's Residence, Maryknoll, New York and remained there until his death. Always an ardent Notre Dame fan, he has no doubt seen more Notre Dame football games than any other Maryknoller.
Wake services were held at 7:00 p.m. on May 26, 1998 at St. Teresa's Residence Chapel and at 7:30 p.m. at Queen of Apostles Chapel at Maryknoll Center where Fr. Daniel Jensen officiated and Brother Joseph Ziegler read the biography. Mass of Christian Burial was concelebrated at Queen of Apostles Chapel on May 27, 1998 at 11:00 a.m. Father John Halbert was Principal Celebrant and Father William Frazier, homilist. Burial followed at Maryknoll Center Cemetery with Brother Wayne Fitzpatrick conducting the graveside service. A Memorial Mass will be celebrated at St. Thomas Aquinas Church, Bridgewater, Massachusetts at a later date for the family and friends of Fr. Buckley.