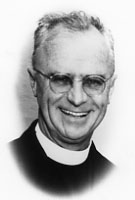 Father George N. Gilligan, MM
Born: July 4, 1900
Ordained: January 26, 1930
Died: February 10, 1992
Father George N. Gilligan died peacefully 5:50 p.m., Monday, February 10, 1992 at St. Teresa's Residence. He was 91 years of age and a Maryknoll priest for 62 years.
George Nicholas was born on July 4, 1900 in New York City, son of John and Jennie (McMahon) Gilligan. He had three brothers and one sister. He attended Holy Name Grade School run by the Christian Brothers and graduated from Regis High School in New York City in June 1918. He was a superior student in all his studies. He attended Fordham University in September 1918 for one year, during which he was inducted into the U. S. Army for three months and discharged in December of 1918. In order to help support his family he worked in different companies in the New York City until September of 1923. He was attracted to Maryknoll by reading The Field Afar magazine and by some Maryknoll acquaintances. He entered the Maryknoll Apostolic College (Venard) in September of 1923 for special studies. One year later in September 1924 he entered Maryknoll Seminary in New York and was ordained a Maryknoll priest on January 26, 1930.
After ordination Father Gilligan was assigned to the Maryknoll mission in Wuchow, South China. Shortly after arrival in Wuchow in 1930 he was transferred temporarily to teach in the new Kongmoon Vicariate Seminary and then was recalled to Wuchow to serve as the Rector of the new Wuchow Minor Seminary in 1936. He remained in that position until his home furlough in 1941. During his 12 years in Wuchow he instructed and baptized well over a thousand adults, and had another thousand under instruction and a long waiting list when he was expelled from China. While on home furlough in November of 1942 he was granted permission to enlist as a U. S. Army chaplain and served as a Chaplain in the European theater until honorably discharged as a Captain on April 26, 1946. He returned to Wuchow in November of 1947. On December 17, 1950 he was imprisoned in solitary confinement for four months by the Chinese Communists. In a trial by the Peoples Court he was sentenced to deportation. He was expelled from China on May 4, 1951 and returned home to the United States.
After recuperation Father Gilligan was assigned to the Maryknoll mission in Taiwan, but this assignment was changed to Hong Kong so as to allow him to teach ethics in the Wellington English College. This assignment was also canceled within a short time and with the help of the Anglican Bishop of Hong Kong he organized and built the Servicemen's Guides Center on a Hong Kong pier for the care of international service men and merchant marine sailors on leave in the Colony.
During a furlough in July of 1958 Father Gilligan served for seven and a half months as a contract chaplain on Eniwitok Island in the Marshall Island group. In 1960 he was assigned as an Associate Chaplain at the Columbia-Presbyterian Medical Center in New York City, where in an outstanding manner he served until 1969. Then he was appointed Chaplain at the DeWitte Nursing Home in New York City with residence at St. Monica's Rectory. In 1972 he worked as the Chaplain at Josephine Baird Home in the City until it closed in 1974. He returned to the DeWitte Nursing Home as Chaplain and St. Monica's Rectory, where he doubled as a curate at St. Monica's until June of 1980. In August of 1980 he enrolled in the Special Society Unit with residence at Maryknoll Residence, Los Altos, California for the next three years. He would spend the winters at Los Altos and the summers at St. Teresa's Residence at Maryknoll, New York. In 1983 he came permanently to St. Teresa's Residence.
Wake service was held in Queen of Apostles Chapel at Maryknoll on Tuesday at 7:30 p.m., February 11. Mass of Christian Burial was offered at 11:30 a.m. in St. Teresa's Chapel on Wednesday, February 12, followed by interment in the Maryknoll Center Cemetery.