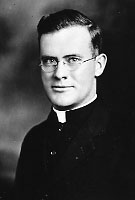 Father George P. Flanagan, MM
Born: February 22, 1900
Ordained: June 17, 1928
Died: November 5, 1947
George P. Flanagan was born in Philadelphia on February 22, 1900. While he was working as a street-car conductor, a Venard student named Joseph McGinn helped George to see that he had a vocation to the foreign missionary priesthood. George was accepted by Maryknoll and entered the Venard in September of 1918.
On June 17, 1928 he was ordained to the priesthood and assigned to Maryknoll's newest mission, Wuchow, South China Father Flanagan's stay in the missions was short, however, for his failing eyesight made it necessary for him to return to the United States.
As a student, George had an extremely quick and gifted mind. This gift now enabled him to assume the role of a seminary professor. However, his mission work did not end when he began to teach. During the years immediately following his return from the missions, Father George also worked as a Maryknoll Promotion Director, which for him included chaplain and pastoral duties in Reno, Nevada and Colorado Springs, Colorado.
In August of 1943, while on assignment at the Maryknoll Novitiate, he fell suddenly ill. This illness made it necessary for him to go to the Center. In his final years he performed what few tasks he could. He bore the crosses which only a missioner, deprived of his life's work full of activity, could experience.
Father Flanagan fell ill again on November 4, 1947 and the next morning he died, at the age of 47. A classmate and fellow missioner, Msgr. John Romaniello, was celebrant of the Solemn Requiem Mass on November 8 and burial was at the Maryknoll Cemetery.