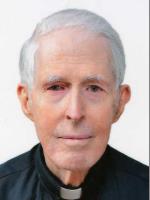 Father Gerald J. Farrell, MM
Born: October 5, 1925
Ordained: June 8, 1957
Died: May 19, 2018
Father Gerald Joseph Farrell died on May 19, 2018 at Mission St. Teresa's. He was 92 years old and a Maryknoll priest for 60 years.
Gerald Joseph Farrell was born on October 5, 1925 in New York City, son of Gerald and Marion Riley Farrell. He had two sisters. He served in the United States Navy from 1943 to 1947 and, while in the service, began his medical training, attending and graduating from Cornell University. He obtained an M.D. degree in 1948 from Albany Medical College and re-entered the Navy, being discharged from active duty in 1950.
He entered Maryknoll in September of 1950, first attending Maryknoll's Junior Seminary in Brookline, Massachusetts and, later, Maryknoll College in Glen Ellyn, Illinois. He was ordained on June 8, 1957. Father Farrell was assigned to the Maryknoll Mission Region in Korea. In 1965, Father Farrell helped construct a clinic in Po Un and then secured the services of a Sister-Doctor as the first medical doctor for the 105,000 people in his parish. He co-authored "An Invitation to Prayer" for the Society's Sixth General Chapter in 1972. This was published in the Chapter Bulletin, encouraging Society members to pray in solidarity.
Prayer guided his future when, in July 1975, he was granted permission by the General Council to participate in the development of the Bethany House of Intercession for priests in Warwick, Rhode Island. It helped priests share the experiences of the charismatic renewal of the Church and intercede for the Holy Father, bishops, priests and deacons around the world through intercessory prayers of praise, thanksgiving, petition, lamentation, litany and vigils, as well as teachings and faith sharings, focusing on the Eucharist and a supportive community of repentance, faith, and love.
After eight years in this work, Father Farrell was reassigned to Korea. He became founder and Spiritual Director of a Society for establishing Perpetual Eucharistic Adoration in parishes. Although retired in October 1997, Father Farrell remained a member of the Korea Region, residing at the Society House in Seoul. He worked as a spiritual director and confessor for Korean priests, seminarians and religious. Since 1999, he had been introducing the Divine Will spirituality of Luisa Piccarreta to the Catholic Church in Korea.
Father Farrell was assigned to the Senior Missioner Community in April 2017 and resided at the Maryknoll Center in Maryknoll, New York. In 2017, he celebrated his 60th Jubilee with many of his family in attendance.
A Rosary and wake service was held at 4:00 p.m. on May 22, 2018 at Mission St. Teresa's. The Rite of Reception took place at the Maryknoll Society Center at 9:30 a.m., May 23, 2018. Father Farrell's family received condolences and prayers until 10:45 a.m. in the Lady Chapel. The biography was read by Fr. David Pfeiffer. Mass of Christian Burial was concelebrated in Queen of Apostles Chapel on May 23, 2018 at 11:00 a.m. Father Joseph Slaby was Principal Celebrant and Fr. Francis H. Beninati was homilist. Burial followed in Maryknoll Society Cemetery with Fr. Joseph Slaby conducting the graveside service.