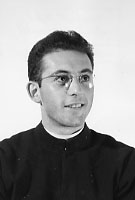 Father Gerald L. Beausoleil, MM
Born: January 16, 1924
Ordained: June 14, 1952
Died: August 8, 2008
Father Gerard L. Beausoleil died on August 8, 2008 at St.Teresa's Residence. He was 84 years old and a Maryknoll priest for 56 years.
Gerard Louis was born on January 16, 1924 in Plainfield, Connecticut, the eldest of three children of Louis J. and Albina Lacasse Beausoleil. He has one brother, Raymond, and one sister, Claire. He attended St. John's Parochial School administered by the Sisters of the Holy Spirit, and graduated from Plainfield High School in June 1941. He worked for a time in a local furniture shop named Eastern Wood Corporation and then left that employ to work in the Pratt-Whitney Corporation. In the fall of 1942 he was admitted to Maryknoll Seminary in Akron, Ohio and studied for one year, commuting to the Marist School in Cleveland. The following two years were spent at Maryknoll Junior Seminary (Venard) in Clarks Summit, Pennsylvania. The ensuing two years were at Maryknoll Seminary in New York, where he received his Bachelor of Arts Degree in Philosophy. After his novitiate year at Maryknoll Novitiate, Bedford, Massachusetts, he returned to Maryknoll Seminary, New York, received his Master of Religious Education Degree and was ordained a priest on June 14, 1952.
After ordination, Father Beausoleil was assigned to the Maryknoll Mission in Japan and began the study of Japanese language and culture in Tokyo. In 1954 he was assigned to the Kyoto Diocese and served there for the next 19 years as pastor of parishes, one of which was the parish in which Father (later Bishop) Patrick J. Byrne was held under house arrest by the Japanese military for the duration of World War II. On January 10, 1971, Father Beausoleil was appointed Regional Superior of the Japan Mission Region for a term of three years. In that capacity, he attended the 1972 General Chapter at Maryknoll, New York. On September 23, 1974, he was reappointed Regional Superior for another term of three years. He was elected as a Chapter Delegate for the Japan Region and attended the 1978 General Chapter at Maryknoll, New York.
On May 1, 1979, Father Beausoleil was assigned to the Formation Education Department in the U.S. Region and was appointed to the faculty of Maryknoll Seminary, Hingham, Massachusetts. On December 22, 1981 he was appointed Director of the Orientation Formation Program, Cambridge, Massachusetts. He served there with the Maryknoll priesthood students until July 15, 1986. On that date, he was appointed Assistant Director of the Maryknoll Spiritual Renewal Program held in the Holy Land. With the termination of the Renewal Program, he served for one year on the staff of the Maryknoll Formation Residence in Chicago. He was reassigned to the Japan Mission Region and arrived in Tokyo on October 5, 1989. On February 1, 1990 Father Beausoleil was appointed Pastor of the churches of Higashi Muroran, Muroran and Noboribetsu on the northernmost Island of Hokkaido, in the Diocese of Sapporo.
On April 1, 2008, after more than 45 years of serving in Japan and 10 years in education, Father Beausoleil was assigned to the Retirement Community and returned to live at Maryknoll, New York.
Wake services were held at 4:30 p.m. on Monday, August 11, 2008 at St. Teresa's, with Father Paul Belliveau officiating, and at 7:30 p.m. in Queen of Apostles Chapel at Maryknoll Center where Father Robert Reiley officiated and Brother Thomas Hickey read the biography. Mass of Christian Burial was concelebrated in Queen of Apostles Chapel on Tuesday, August 12, 2008 at 11:00 a.m. Father Edward Wroblewski was principal celebrant and homilist. Burial followed in Maryknoll Society Cemetery with Father John Barth conducting the graveside service.