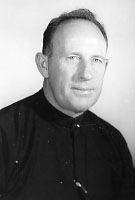 Father Gerald P. Ziegengeist, MM
Born: September 25, 1921
Ordained: June 11, 1949
Died: August 11, 1995
Fr. Gerald Ziegengeist died at 5:00 a.m. on Friday, August 11, 1995, at the home of his sister Dorothy in Plymouth, Massachusetts. He was 73 years of age and a Maryknoll priest for 46 years.
Gerald Ziegengeist was born in Plymouth, Massachusetts on September 25, 1921, son of Paul Herman and Anna L. Mentzel Ziegengeist. He had two sisters, Claire, a Discalced Carmelite Nun, and Dorothy. His early education took place in the Plymouth Public Schools and he then attended Boston College for two years. He entered Maryknoll Apostolic College (Venard), Clarks Summit, Pennsylvania, on August 1,1942. He was ordained a priest at Maryknoll Seminary, New York, on June 11, 1949.
Father Ziegengeist's first three years of ministry prepared him well for his life-long work. In June 1949, he was appointed Assistant Business Manager at Maryknoll College, Glen Ellyn, Illinois, for one year; then transferred to the New York City Development House for the next year; and then to the Minneapolis Development House for one year. On June 15, 1952, he was assigned to Maryknoll's mission in Bolivia, where he spent the rest of his missionary life.
Fr. Ziegengeist learned both the Spanish and Quechua languages well. In the Quechua parish in El Paso, Cochabamba, besides winning the Quechua people back to the Church, he saved the church lands from being taken over by the government He taught the local farmers to farm with machinery. With the assistance of Maryknoll Sisters from the nearby city of Cochabamba, he set up and operated a medical dispensary. Next, he was assigned as Pastor of Santa Ana parish, in the Calacala section of the city of Cochabamba, where, in addition to his pastoral duties, he expanded the parish school system, which included Kindergarten and grade school, staffed and supervised by Maryknoll Sisters, and high school. In 1961, he supervised the construction of the high school building and a new rectory for the parish. In 1962, he secured the assistance of the Xaverian Brothers from New York to assist in the administration and staffing of the high school, along with the Maryknoll Sisters.
In 1962, beginning in the garage of the rectory, Fr. Ziegengeist developed the unique Fotrama cooperative for Quechua women throughout the Cochabamba valley who made their living by weaving llama and alpaca woolen garments such as sweaters, ponchos, short jackets, scarves, mittens, blankets and rugs. He developed an international market for Fotrama products and shipped large quantities of articles to such firms as Sears Roebuck in the United States. Workers are paid seven percent dividends and annual bonuses. All profits from the Fotrama business are used to purchase new supplies and equipment. Through contacts with friends in the woolen mills of Massachusetts and Rhode Island, he was able to obtain large quantities of used textile machinery which he transported to Cochabamba where he set up a plant for producing thread from the llama and alpaca wool. He also introduced the use of knitting machines throughout the various Fotrama Cooperative centers in Cochabamba.
On occasion, Fr. Ziegengeist encountered local opposition to the socio-economic work he was doing among the poor, as is often the case in such instances. After one incident, the Vicar General wrote him: "We have been receiving some fine reports on the excellent job you are doing there in Calacala. There is nothing like a vigorous social program to quiet the opposition. I do not mean by that, that you have quelled all opposing voices, but until we get such programs as yours functioning, there is very little chance that we can make our voice heard at all."
In 1965, he participated in the 21st Annual Seminar on Extension Education held by the U.S. Department of Agriculture in Washington, D.C. He was appointed Assistant Regional Superior of Bolivia on October 1,1986 for a term of three years.
Fr. Ziegengeist was a soft-spoken, affable person, well liked by priests and lay people alike. A dedicated worker, he was also an avid tennis player who was not unwilling to spend his own time and energies in keeping the court at the Cochabamba Center House and Language School in tip-top shape. In 1987, he was featured in The Pilot, the Catholic newspaper of the Archdiocese of Boston, as "The Worker-Priest from Plymouth,"where he was quoted, at age 65, as saying: "I've worked and struggled since high school. I'm not about to stop now."
In early 1995, Fr. Ziegengeist fell ill. In May, after receiving medical care in New York City, he took up residence at St. Teresa's Residence at Maryknoll Center in Ossining, New York. In early August, he moved to his sister's home in Plymouth, Massachusetts, to enter the Hospice Program there.
Auxiliary Bishop Angel Gelmi was Principal Celebrant at a wake and Mass on August 11, 1995 at FOTRAMA headquarters in Cochabamba. Fr. Frank McGourn was homilist. On Saturday, August 12th, Fr. Gordon Fritz was Principal Celebrant at a Mass of Resurrection in the Parish of Santa Ana.
Wake services were held for Fr. Ziegengeist at St. Teresa's Residence and Queen of Apostles Chapel at Maryknoll Center, New York, on Tuesday August 15, 1995. Mass of Christian burial was concelebrated in Queen of Apostles Chapel the following day, Wednesday, August 16, at 11:30 a.m. Interment followed in the Maryknoll Society Cemetery at Maryknoll Center.