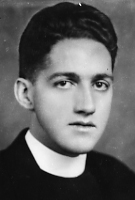 Father Gerald S. Carroll, MM
Born: January 1, 1912
Ordained: June 14, 1938
Died: April 9, 1962
Gerald S. Carroll was born in New York City on January 1, 1912. After attending grammar school at the Annunciation Parish he went to Regis High and was graduated in 1929. He then studied for two years at Fordham University. He entered Maryknoll in September of 1931 and was ordained on June 14, 1938.
He was assigned to Bedford as Assistant Director and the following year appointed Rector of the Junior Seminary at Akron. In 1942 he was transferred to the Venard as Spiritual Director. His first mission assignment came in 1945 when he was assigned to Chile, but his joy was necessarily curbed when he learned that a change in personnel made it necessary to keep him in this country to teach at the new Brookline Seminary until a replacement should arrive. Finally, after a year, Father Gerry was able to leave for Chile in March, 1946. Three years later he was appointed to the faculty of the seminary of the Missioners of Our Lady of Guadalupe, Mexico. At the same time he was named as Consultor to the Society Superior for Middle America. In 1954 he was recalled to the Center Promotion Department and later named Assistant Director in charge of the Center Office. In 1960 he was again assigned to Chile and upon his arrival there was named curate in Talca. Later he transferred to Huachipato in Talcahuano.
On April 8th, after celebrating two Masses, Father Carroll did not feel well and went to bed. Since he grew worse during the day, the doctor was called and ordered him to be removed to the hospital immediately. Father Carroll died on April 9, 1962 and was buried in Talcahuano, Chile.