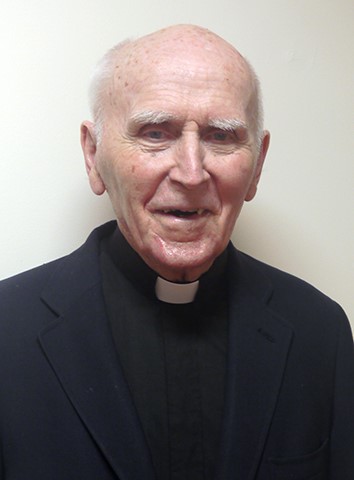 Father Gerard T. McCrane, MM
Born: October 12, 1932
Ordained: June 13, 1959
Died: April 15, 2020
Father Gerard T. McCrane died on April 15, 2020 at the Assisted Living Center at Maryknoll, New York.  He was 87 years old and a Maryknoll priest for 60 years.
Gerard McCrane was born on October 12, 1932 in Teaneck, New Jersey, the sixth of nine children born to Joseph and Mathilda Reardon McCrane.  He attended St. Anastasia Grammar School in Teaneck, New Jersey and graduated from All Hallows High School in the Bronx, New York. Gerard entered Maryknoll College in Lakewood, New Jersey in September 1950.  He received a Bachelor of Arts degree in Philosophy from Maryknoll College, Glen Ellyn in 1954, and a Master of Religious Education degree in Theology from Maryknoll Seminary in 1959.  He was ordained to the priesthood at Maryknoll, New York on June 13, 1959.
After ordination, Father McCrane was assigned to the Development Department.  He worked in Milwaukee for one year and then was assigned to the New York City House for five years.  He received a Master of Arts in Latin-American Studies from Georgetown University in 1966 and was then assigned to the Peru Region.  In 1970 he was appointed Second Alternate Consultor for the Region, and in 1972 was appointed Regional Superior of Peru; he was re-appointed to this position for a second three-year term in 1975.  While still remaining a member of the Peru Region, Father McCrane was appointed Director of Cochabamba Language Institute in Bolivia in 1978 and served in this position for the next six years.
In January 1985, Father McCrane returned to the United States to assume the responsibilities of Director of the Formation/Education Department, at which time he was also named President of the Maryknoll School of Theology by its Board of Trustees.  In January 1990, he was given permission to accept an invitation to work with the International RENEW program on a limited contract.  He remained there until August of 1991 and in November of that year was appointed Co-Director of the Maryknoll Mission Institute for a three-year term.
Father McCrane was assigned back to the Andean Region in February 1995, to work in Peru. While continuing to be a member of this Region, Father McCrane was again appointed Director of the Cochabamba Language Institute in June 1997.  He later reflected that "twenty-five plus years of involvement in the lives of the people of Latin America was a great enrichment and privilege for me – my own 'Discovery of America'."
In June 2003, Father McCrane was assigned to the U.S. Region.  He worked in the Mission Education and Promotion Department and resided at the Chicago House for the next six years. He was assigned to the Retirement Community (now Senior Missioner Community) in June 2009 and returned to Maryknoll, New York.  He continued to reside at the Society Center and was quick to greet everyone who crossed his path with a smile and friendly conversation.  He celebrated his 60th Jubilee as a Maryknoll priest in June 2019.
A Mass of Christian Burial was celebrated in Queen of Apostles Chapel on April 17, 2020 at 11:15 a.m.  Father Raymond Finch was Principal Celebrant and Father Richard Albertine was homilist.  The Oath and biography were read by Father Peter Le Jacq.  Burial followed in the Maryknoll Society Cemetery.