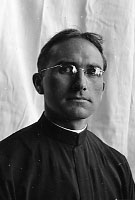 Father Gervis J. Coxen, MM
Born: June 19, 1906
Ordained: June 16, 1937
Died: January 9, 2003
Father Gervis Coxen died early in the morning on January 9, 2003 at St. Teresa's Residence, Maryknoll, New York. He was 96 years old and a Maryknoll priest for 65 years.
Gervis Joseph Coxen was born June 19, 1906, in the Bronx, New York, one of eleven children of Thomas and Letitia Graham Coxen. One of his sisters, was Sister Mary Jerome, MM who worked for years in the Society Development Department. He attended St. Thomas Aquinas grammar school in the Bronx, NY and after graduation from Regis High School, he attended Fordham University obtaining a Bachelor of Arts degree in Philosophy. He became a member of the faculty of Regis High School and received a Bachelor of Law degree in June, 1929, from Fordham Law School. He entered Maryknoll in September 1932 and was ordained at Maryknoll, New York, on June 16, 1937.
After ordination, Father Coxen was assigned to the Korean Region, where, after language studies, he worked in the Peng Yang Diocese in North Korea. "Korea is swarming with children. They flank you on every side, get under your hat and your feet, and into your heart," wrote Father Coxen of his early days in Korea.. "Of such is the Kingdom of Heaven, and on such depends the future of the Korean Church."
In 1942, with the Japanese invasion of Korea, Father Coxen was repatriated into the United States and on July 10, 1943 assigned to Maryknoll's Mission in Guayaquil, Ecuador. In July 1944, Father Coxen was appointed Society Superior for the Peru-Ecuador Region and as Society Superior, participated in the 1946 General Chapter at Maryknoll, New York. After the Chapter, he was appointed Treasurer General, a position he held until he was assigned to the Venard Faculty in January 1952, where he taught religion and history.
In November 1953 Father Coxen was again assigned to Korea and, after finishing his teaching assignment left for South Korea in summer 1954. He opened a new parish in Eumsong and oversaw the building of a church, rectory and convent. He moved to Pusan in 1959 to serve as pastor of Our Lady of Perpetual Help parish. He was appointed Second Consultor of the Region in 1956 and Regional Superior in January 1962 and in this capacity attended the 1966 General Chapter. In 1967 Father Coxen was pastor of Holy Name of Jesus parish in Inchon, which maintained a tuberculosis clinic, treating more than 100 patients a day. After his appointment, in 1975, as Third Regional Assistant, he moved to Seoul to manage the Center House.
In January 1978 Father Coxen was assigned to the Special Society Unit, and took up residence at Maryknoll Residence, Los Altos, California. In 1984, Father Coxen attended his third General Chapter, this time as an SSU representative at the Society's Eighth General Chapter. After the California earthquake on October 17, 1989, which severely damaged the Residence in Los Altos, he moved to St. Teresa's Residence at Maryknoll, New York, where he continued to reside until his death. Father Coxen became a member of the Retirement Community in January 2001.
Wake services were held at 4:30 p.m. on Monday, January 13, 2003 at St. Teresa's, and at 7:30 p.m. in Queen of Apostles Chapel at Maryknoll Center where Father Raymond F. Sullivan officiated and Father J. Daniel Schneider read the biography. Mass of Christian Burial was concelebrated in Queen of Apostles Chapel on January 14, 2003 at 11:00 a.m. Bishop William J. McNaughton was Principal Celebrant and Father Michael A. Duggan homilist. Burial followed in Maryknoll Society Cemetery with Father Francis T. McGourn conducting the graveside service.