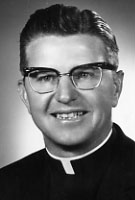 Father Gorden N. Fritz, MM
Born: November 10, 1915
Ordained: June 21, 1942
Died: July 12, 2001
Father Gorden Fritz died on July 12, 2001 at United Hospital in St. Paul, Minnesota. He was 85 years old and a Maryknoll priest for 59 years.
Gorden Nicholas Fritz was born on November 10, 1915, in Newport, Minnesota, son of Nicholas and Georgia Dorland Fritz. Gorden had three brothers and five sisters. His sister, Mildred, is a Maryknoll Sister. Gorden attended the Newport public school system for seven years and St. George High School, Evanston, Illinois for one year.
He entered Maryknoll Junior Seminary, Cincinnati, Ohio, in September 1930, attending classes at St. Gregory Seminary. After five years he moved to the Maryknoll Apostolic College (Venard), Clarks Summit, Pennsylvania and two years later to the Maryknoll Novitiate in Bedford, Massachusetts. He was ordained a priest at Maryknoll Seminary, New York, on June 21, 1942.
After ordination Father Fritz was assigned to the new Maryknoll Mission in the Pando Vicariate of Bolivia. Within three months of his arrival he was assigned to the Indian Mission of Cavinas, an eight-day trip up the broad Beni River through deep, dense, and humid jungle. There he served as priest, administrator, teacher, doctor, judge and advocate, as well as the general overseer and supplier for the entire tribe who had their own language and customs and gained their living by tapping wild rubber trees and harvesting Brazil nuts. They also had their own simple agriculture and did a great deal of hunting and fishing, often with bow and arrow.
After a home furlough in 1950 Father Fritz served as pastor of the Parish of San Jose in Riberalta for six years. He served as the Vicariate Procurator and Director of the Maryknoll High School for two years. When Bishop Danehy died in October of 1959, Father Fritz took over as the Apostolic Administrator for the next sixteen months, until a new bishop – his classmate, Father Thomas Collins – was named. In February of 1961 Father Fritz was named the Acting Superior of the Maryknoll Bolivia Region with residence in Cochabamba, and the following year Regional Superior for the next five years. He attended the Society General Chapter in 1966 at Maryknoll, New York. At the end of his term as Regional Superior he was named pastor of San Isidro parish in the Diocese of Santa Cruz. Two years later he was called to be Administrator of St. Teresa's Residence at Maryknoll, New York, where he served for four years.
Father Fritz returned to Bolivia in August 1973 and served as Pastor of the new Cristo Rey Parish in Cochabamba, a very large parish with a population of nearly fifty thousand people. Over the years he built a large central church, as well as three outlying mission chapels, bringing to seven the total number of churches that he built, counting the previous ones in Cavinas, Riberalta and Santa Cruz. He attended a renewal course at Notre Dame University in South Bend, Indiana, for three months. At the end of the course, he became ill and underwent surgery in Minnesota. After recovery he returned to Cristo Rey Parish in Cochabamba in mid-1986.
At that time a new Maryknoll Center House had been purchased that needed to be completed and furnished, so Father Fritz was transferred from the parish to the Center House. While living at the Center House he helped out in Cristo Rey and also served as a consultor to the Regional Superior. In May of 1997, Father Fritz joined the Retirement Community and took up residence at Maryknoll, New York.
A Memorial Mass was held at St. Thomas Aquinas Church in St. Paul Park, MN on Tuesday, July 17, 2001.
Wake services were held on Wednesday, July 18 at 7:00PM at St. Teresa's, where Father Stephen R. Wood led the service and Father Thomas F. Foley was the speaker, and at 7:30 p.m. at Queen of Apostles Chapel at Maryknoll Center where Father Francis B. Higdon officiated. Father Fritz' biography was read by Brother Joseph Ziegler. Mass of Christian Burial was concelebrated at Queen of Apostles Chapel on Thursday, July 19, 2001 at 11:00 a.m. Father William J. Coy was Principal Celebrant and Father Edward F. Walck homilist. Burial followed at Maryknoll Center Cemetery with Father Thomas P. Henehan conducting the graveside service.