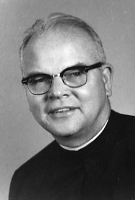 Father Gregory J. Keegan, MM
Born: January 6, 1915
Ordained: February 7, 1943
Died: June 6, 2000
Father Gregory J. Keegan died on Tuesday evening, June 6, 2000 at St. Teresa's Residence, Maryknoll, New York. He was 85 years of age and a Maryknoll priest for 57 years.
Gregory Keegan was born in La Crosse, Wisconsin, on January 6, 1915, son of Thomas F. and Jennie Whitehouse Keegan. He had two brothers and five sisters. He attended St. Mary's Parochial School and graduated from St. Thomas Aquinas High School in June 1932. He studied at Loras College in Dubuque, Iowa. Through those years he was actively engaged in athletics and carried on this interest throughout his life. He worked actively with the School Units of the Catholic Student Mission Crusade. In the fall of 1935 Gregory entered Maryknoll Junior Seminary in Cincinnati, Ohio. He moved on to Maryknoll Apostolic College (Venard), Clarks Summit, Pennsylvania, and was ordained a priest at Maryknoll Seminary in New York on February 7, 1943 because of the war and the dangers in travel.
After ordination, Father Keegan was assigned to the new Maryknoll Mission in Tepic, Mexico. He taught English at the Minor Seminary in Tepic. He was recalled to the United States in 1945 and accepted an assignment to work among thousands of Mexican railroad workers brought to this country to keep the railroad maintenance operating during the war and later in the reconversion period. His 'parish' extended from Groton, South Dakota, to Pewaukee, Wisconsin. At different points along the way he would gather the workers together and offer Sunday Masses, often outdoors along the railroad track. His ministry had good effects not only on the workers but also among the local people. This ministry continued for over two years.
From 1947 on for the next twenty years he served on the faculties of Maryknoll Seminaries as teacher, business manager, athletic director, and prefect of discipline. He was assigned to teach Latin, Spanish and English at Maryknoll Apostolic College; and at Maryknoll Junior College at Lakewood, New Jersey from 1947 to 1952. During 1952 he obtained a Master of Arts degree in Spanish at the University of Notre Dame, South Bend, Indiana; and in 1953 he acquired a Ph.D. degree in Spanish at the University of Madrid, Madrid, Spain. He was then assigned to Maryknoll College, Glen Ellyn, Illinois, where he taught Spanish. In 1961 he was transferred to Maryknoll Junior Seminary in Chesterfield, Missouri and served as Business Manager and Athletic Director until 1971.
August 1971 at the request of the Archbishop of Dubuque, Iowa, Father Keegan was assigned to work as Dean of Students at Loras College, Dubuque, Iowa. On April 30, 1973 Fr. Keegan was assigned to the Maryknoll Seminary in Hingham, Massachusetts where he served on the staff until May 1975. The Director of Education wrote to Father Keegan upon hearing the news of his change of assignment from Hingham: "Greg, I want to thank you personally, and also in the name of the other men in the Education Department, for all you have done over your many years in the Education Department in preparing young men for Maryknoll and mission work. It just struck me how many hundreds of priests and Brothers you have influenced. The number must have been close to 300 just in the two years you taught at the Venard and Lakewood."
On April 28, 1975, Father Keegan was appointed Assistant Director of the Maryknoll Retirement Residence at Los Altos, California. He was formally enrolled in the Special Society Unit on June 1, 1983. The Superior General wrote at the time of Fr. Keegan's assignment to the Special Society Unit: "On this occasion I would like to take this opportunity to express on behalf of the Society, as well as my own behalf, our deep sense of gratitude to you and to the Lord for the gift you have been to Maryknoll and mission over your many years of ministry. I know that you have served long and well in many different capacities of the Society's work. For several decades now many of our Maryknollers have been literally serving all over the world carrying with them the spirit and deep faith that you shared with them during their formative years. I am sure that the Lord does, and will continue to reward you mightily, not only for the good you have and are doing, but for the influence that you have had on others." In addition to his duties at the Residence, he helped out in Our Lady of Peace Parish in Santa Clara for 15 years. He served as Chaplain of the Knights of Columbus Council in Milpitas for 7 years. With the Knights he helped raise funds for a special education program for mentally retarded persons. At the Knights State Convention he was chosen Knight of the Year for 1991.
After the October 1989 Loma Prieta earthquake extensively damaged the Maryknoll Residence in Los Altos, California, he transferred to Maryknoll Center in New York. He served as a chaplain at the Dominican Sisters of the Sick Poor Convent (Mariandale) in Ossining. He was also involved in promoting and assisting the Appalachian Friendship Center in Tennessee, which provided a community action focus for the impoverished mountain communities.
On May 3, 1995 Father Keegan took up residence at St. Teresa's, Maryknoll, New York. He resided at St. Teresa's until the time of his death.
Father Keegan will be remembered as a loyal Maryknoller and one who loved being a missionary priest. He was personable, gracious, hospitable and kind to all he met. He held a great interest and concern for the seminarians and Brother candidates in formation. Formally and informally he shared his wisdom, spiritual guidance and wise counsel with countless numbers of men who journeyed through the educational and formative halls of Maryknoll.
Wake services were held at St. Teresa's Residence at 7:00 p.m.on Thursday, June 8, 2000 and at 7:30 p.m. in Queen of Apostles Chapel where Father Dennis Dunne officiated and Father Martin Keegan read the biography. Mass of Christian burial was concelebrated at Queen of Apostles Chapel on Friday, June 9, 2000 at 11:00 a.m.. Father Charles Cappel was principal celebrant and Father Philip Mares was homilist. Burial followed at the Maryknoll Cemetery with Father Jeremiah Burr conducting the graveside service.