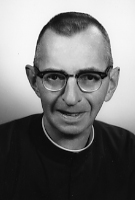 Father Harry M. Bush, MM
Born: November 6, 1907
Ordained: June 11, 1933
Died: July 1, 1969
Harry M. Bush was born in Medford, Massachusetts on November 6, 1907. He went to Boston College High School, graduating in 1925. The following September he entered the Venard.
He was ordained on June 11, 1933 and assigned to the Kaying Vicariate in South China. On May 15, 1935 Father Bush was captured by bandits at Shak Chin, about 4 miles northwest of Kaying City. He was released on June 22, 1935 and returned to his mission. In 1940, because of sickness, he was recalled to the States and assigned to Maryknoll. In 1941 he went to the St. Louis Seminary and the following year to Bedford for promotion work.
In 1943 he was assigned to Lima, Peru to work among the Chinese there. After three years in South America he was assigned in 1946 to the faculty at the Venard and the following year to the faculty at Brookline where he taught Geography, English and Religion. In 1950 he was assigned to Bedford to help out in neighboring parishes. Recalled to the Center in 1957, he helped out in the library. In 1960 he went to the Novitiate of the Paracletes in Randolph, Vt. In 1962 he was asked to teach Latin at John Vianney Seminary of the Servants of the Paraclete in Barre, Vt. He then returned to Brookline and in October, 1964 was back at the Center. In 1968 he took up residence at St. Teresa's.
A concelebrated funeral Mass was held at Maryknoll at which Fr. Bergan was principal celebrant, followed by burial at Maryknoll. Father Bush is survived by a sister-in-law.